Question of the Week:
Name a beauty fad or trend that you want to see come BACK into fashion.
This is such a tricky question...we've seen the return of almost everything at once with the super heavy makeup trend, courtesy of Instagram. I would love to see more "done" hair come back into style. I don't mean roller sets, but just structured style. There is something to be said for a classic updo. We haven't had a real hair trend that didn't focus on being loose or bed-head-like since the 80's. The bun, the lobs, ombre - that's all based on looking like you just happened to look like that when you woke up. What trend would you like to see come back?
we heart this
- Hair despair?
Repair it with a recipe
!
Beautygeeks
- Tired of trolling Google-world for dupes for your new favourite nail-colour shade? Meet your new
best resource of nail polish swatches, releases and big-brand collections
.
Beauty Junkies Unite
- Amber is giving away a $25 Sephora Gift Card, so
make sure to go over and enter
!
Blushing Noir
- Do you dare to wear the latest collection from MAC Cosmetics?
Join the Fashion Pack
before it's passé!
Gouldylox
- I thought I was over
this kind of foundation
, but nope, this base makes me fall in love with it all over again.
My Beauty Bunny
- has swatches and a review of the new
Too Faced Born This Way Concealer
collection (10 total shades!) that just hit stores.
(Ooh! I need to see this!)
My Newest Addiction
- Laura has all the feels for the
MAC Brant Brother Collection
. Check out her thoughts and swatches.
Nouveau Cheap
- If you're curious to see what was inside the latest Amazon Beauty Box,
here's my unboxing
with first impressions.
Olive & Ivy
- The Chanel summer 2016 makeup collection is goooorgeous. You don't have to take my word for it, just
go look
!
Phyrra
- Makeup regrets! We've all got them. Find out my latest
Makeup Products I Regret Buying
and share some of yours!
Prime Beauty
- has a wonderful budget way to get your glow on with
Hard Candy Illuminate and Strobing Mix-in Drops.
(Wondering what the Lipstick League is? Find out here.)
we heart this is Currently Craving:
Fresh Cocoa Body Exfoliant
; every since I first smelled it I can't get it out of my mind! Hot chocolate meets sugar meets cocoa butter...mmmm.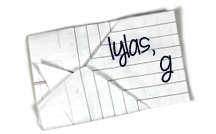 Find Kelly on
Google+
. Official
disclosure/disclaimer
statement can be found here.
Copyright 2009-2016, Gouldylox. All Rights Reserved.