Purchased by me. Sent for review. Contains affiliate links.
I'm feeling a bit nostalgic this week, but for a good reason! It's been almost seven years since I decided to start this little beauty blog. I know so many of you that have been reading since the beginning and I'm so thankful that you're here! Thank you for listening to me discuss the pros and cons of sulfates, pressed eye shadows and a finely milled loose powder along the way. I appreciate you!
I've always loved makeup, but I really fell back in love with it about ten years ago
when I discovered Bare Escentuals on TV
. That powder foundation had secret ways of mesmerizing me for hours late into the night. For a long time, I was a huge devotee of Bare Escentuals and would wear almost nothing else. I felt like I was cheating on my favorite brand if I even dared!
I'm still a super fan of Bare Minerals.
I love, love, love their new skincare line, especially this
anti-aging serum
. I just pulled out my Bare Minerals
bareSkin Foundation
, as well as the slightly newer
Complexion Rescue Foundation
. I love how natural the Complexion Rescue looks, but the BareSkin foundation rivals the look of Chanel foundations. Yes, you need that
brush
to go with it, but who cares. It's just so beautiful on the skin. I really want to try the new
Invisible Light Translucent Palette
too. That really looks like the perfect way to handle summer skin (plus the
bareSkin Sheer Sun Serum Bronzer
, obviously). Seems like I've got some shopping to do...
What brand is making you feel nostalgic right now?
Remember the original tubes of Stila Lipgloss? And how incredibly silky the original Kitten eyeshadow felt? Oh, before we say bye for now, you know what older product is still really, really good?
Benefit's Erase Paste
. I remember that was one of the
first things
I reviewed here. I just wore it again the other day (a new pot!) and it still looked really great. What's making you nostalgic?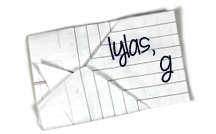 Find Kelly on
Google+
. Official
disclosure/disclaimer
statement can be found here.
Copyright 2009-2016, Gouldylox. All Rights Reserved.