No, the Correxiko bag doesn't come with kitten teeth imprints. That cat loves to grab bags like this and run with them. (Especially bags with cheese!)
Question of the Week:
What alternative products do you use in your skincare regime? Think supplements, things found in the garden or the fridge.... Here are my two current favorite products that sometimes surprise people who visit Gouldylox HQ.
I've just started using
Correxiko Skinny Matcha
for a bit of energy in the morning. One of my bestie's loves it as an alternative to coffee. It' rich in antioxidants (it's got more than spinach and blueberries combined!). You can use Correxiko to cook with too, but I usually add it to a glass of tea (cold), which is not how most people use matcha. How anyone drinks coffee or hot tea at this time of year baffles me.
I've been taking a
cannabinoid-rich oil
for about a year to help with headaches, stiff joints and general wellness. You can use it topically as well - it sinks into skin really quickly, which is amazing when you really need some extra moisture (under your eyes, especially!). Hemp oil contains omega 3 and 6 that are fantastic for balancing out your skin, too.
CW Hemp
makes a high quality hemp oil you can trust. Oh yeah - It's legal in all 50 states and ships to many countries outside of the US. It doesn't contain enough thc to feel the euphoric feelings and will never screw up a drug test.
This is the blank look I get everytime I talk to him about stealing bags and trying to hide them. I know he understands and is just trying to play me.
EauMG
- I can't explain why but this
cheap, celebrity perfume
ALWAYS gets me compliments. Since I like this perfume too, this makes me really happy.
Gouldylox
- Have you seen the new
It Cosmetics Superhero palette
? It launches in August and you're probably going to need it.
My Beauty Bunny
- It's ALL about the highlighting these days, and we've got the details on the latest must-have palette:
Anastasia Beverly Hills Moonchild Glow Kit: Hit or Miss?
My Newest Addiction
- This week Laura shared one of her summer beauty secrets! Check out her
5 reasons to fake tan before vacation
!
Nouveau Cheap
- is Max Factor coming back to US drugstores? Yes!
Kind of
.
Olive & Ivy
- I can't get enough of the
Tarte Lippie Lingerie Matte Lip Tints
! They are gorgeous and so comfortable for everyday wear. Best of all, there's a nude for everyone in this line!
Phyrra
- You know I'm passionate about cruelty free beauty. But did you know I care about animal friendly handbags? I share my favorite
animal friendly eco friendly vegan handbags
!
we heart this
- Have you seen the new
Kleenex Exfoliating Pads
? You're going to wonder how you ever traveled without them?
Beautygeeks
- is all over these
summer scents for living your fantasy life
– and the Summer Pasta recipe slays, too.
Blushing Noir
- When you have no time to fuss with coordinating your makeup products buy a multi-tasker like the new PIXI Beauty 2-in-1 MultiBalms… or enter to
WIN ALL FIVE
.
(Wondering what the Lipstick League is? Find out here.)
EauMG is Currently Craving:
MILK Holographic Stick
. This HUGE moisturizing shimmer stick is perfect for those of us that want to look like a really cute alien or miss being a 90's club kid.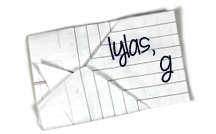 Find Kelly on
Google+
. Official
disclosure/disclaimer
statement can be found here.
Copyright 2009-2016, Gouldylox. All Rights Reserved.