Not a doctor. See one before beginning a weight loss program.
Happy Friday, little sisters! How was your week?
I made Lifetime at Weight Watchers!
Woo hoo!!! I was a little worried I would be underweight, but it turns out that doesn't matter. As long as it's within the healthy weight range, you can be under by anything you want. Who knew? I'm nervous. I'm so excited. And then there's
this
nonsense I'm going through.
For the last two weeks, I've been falling prey to that old "I don't want to eat any of that" mentality. Not that I don't want to eat my points, but that I don't like any of my options. Like a kid that only wants Cocoa Puffs and grilled cheese, a salad with apples isn't making my mouth water. It's like my mouthmonster* is taking over and being a jerk.
To figure out what my body is trying to tell me, I've been hunting for new veggie recipes, so see what does satisfy me. I was looking for something with protein that doesn't come from fish or soy, which is a little tricky for us non-meat eaters sometimes. And I found a few great ones I'll share. One in particular is
practically
a
superfood. Trying something new, even outside of your comfort zone, may be exactly what your body is craving to move along to the next stage in your weight loss journey. Getting stuck is the worst! Switch up your food with something new and I bet you'll be leaving that plateau sooner than later!
I recently found this great recipe in a newsletter from
Kayla Itsines
. You guys know all about her, right? She's a fitness coach online, with great advice and programs. While her workouts look like something that I would kill me three minutes flat, this
"fritter" recipe
is rocking my world. And just like my favorite
chickpea cookie recipe
, what I've found is that it makes for an amazing base that can be tweaked depending on your mood.
Here's the recipe I changed slightly, based on the one I found from Kayla's website (above).
You'll need:
30g of dry quinoa
1.5 cups of cooked pumpkin (I used canned, but if you can do better, go fresh!)
150g of chickpeas (canned, unless you can do better)
1 egg
2 garlic cloves
1.5 cups of chopped spinach
20g sunflower seeds
1 tsp garam masala
1 pinch of cayenne to taste
1 pinch of salt to taste
Directions:
Cook your quinoa as directed.
Mix all ingredients together and add quinoa once it's been cooked, drained and cooled.
Form it into little patties (I used an old biscuit cutter to make 9 of them)
Pan fry lightly with just a little olive oil for 3-5 minutes in each side.
If you like your "fritters" on the dry side, try baking them for an additional 10 minutes or so at 350. Keep an eye on them--this is totally a taste preference thing!
The pumpkin, quinoa and chickpeas make a great base to add other spices to as well. I just made it again with a Mexican flair using
Tajin seasoning
instead of garam masala. If you are new to it, Tajin
is a mix of Mexican chilis and lime. Love it! I grabbed mine at Aldi, but it's available on
Amazon
and Jet. YUM!
Add these fritters to a salad, make a sandwich (add a tiny bit of goat cheese!) or eat them any way you would eat falafel, which is a similar texture. Think of it as a veggie burger, made with only the good stuff! I added all of the ingredients up in my Weight Watchers Tools and got 2 points for the fritter, but build your own recipe and double check to make sure it doesn't change, based on your ingredients.
These keep well, are so yummy and are a practically perfect food source. Step outside of the box and try something new--keep it up an you'll break through that plateau in no time.
How do you live through a plateau? What are your tricks? Oh, and let me know if you try the fritters. I love them!
Did you miss any of my tips? Need a refresher? Click Weight Loss at the top of the page and see what you've missed. Or just subscribe and join the Gouldylox family!
*Mouthmonster - I guess this is when you have a "taste" for something and you aren't sure what it's for. Or when you WANT to eat more, even though you aren't hungry.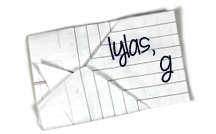 Find Kelly on
Google+
. Official
disclosure/disclaimer
statement can be found here.
Copyright 2009-2016, Gouldylox. All Rights Reserved.