Purchased by me. Sent for review.
T
here is no official Lipstick League post this week and it dawned on me that while I'm not saving the world one lipstick at a time, you may still need my help.
While not everyone suffers from being introverted to the degree in which I do, I realized sharing my escape plan strategies may help a few of you....
You know what I'm talking about. You're at a cookout and you can't escape that cousin who found Crossfit via that old Rick Ross video. Or maybe it's someones newly divorced racist uncle can't stop talking about the importance of making Mexicans pay for a wall. Or worse, someone is pointing out how veganism would have made this cookout so much better for the environment. Whatever it is, you need an escape plan and just going to the bathroom isn't going to help.
My strategy? You need to run to the drugstore. They can't ask why, because no one wants to talk about their assumption - lady problems. (Or you can say, "for obvious reasons, I have to run out. I'll be right back. It's the most genius escape line ever crafted.) So use it to regain a few precious moments of relaxation/sanity at your local CVS. While you're blissfully not discussing politics, go look for these gems on the shelves. And don't forget to scan your
CVS ExtraCare
card for major coupons. (I know you're already part of the
Beauty Club
.)
L'OREAL Voluminous Butterfly Sculpt
is lit. It tightlines the eyes (sorta) and fans out lashes way more than the previous butterfly brushes. This is the best drugstore mascara I own right now.
Beauty 360 Exfoliating Dual-Action Facial Cloths with Blood Orange
will scrub your skin better than any other facial cloth, in the history of facial cloths. While I haven't tested it, I have to believe it will remove self-tanning mistakes. Go gentle with this one...it's not for the meek.
NYX Lip Lingerie Liquid Lipstick
is a little sticky for my taste. But if you grab a shade that matches your lips (or is slightly lighter) it makes an amazing lip primer. If you are into the bright colors, grabbing a shade slightly lighter will make your brights POP like crazy.
Revlon Colorstay Skinny Liquid Liner
in electric blue is the exact color of blue you keep seeing as a wide, winged liner in Allure. It's sold out online, but I'm still seeing it in stores. Grab it. You're going to need it.
Escape, change your liner and come back obviously refreshed. Happy Memorial Day Weekend!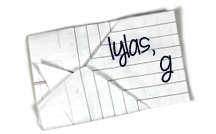 Find Kelly on
Google+
. Official
disclosure/disclaimer
statement can be found here.
Copyright 2009-2016, Gouldylox. All Rights Reserved.