Question of the Week:
If an evil person made you surrender all of your makeup brushes except for ONE, which one would you keep, and why?
Ok. So why there is an evil person hoarding makeup brushes, I don't understand, but I'll play along! I suppose I would keep my I
t Cosmetics Heavenly Luxe Complexion Perfection
brush, because it gives great face. I have several of these and I use one every day. However, if I was in a snarky mood, I'd keep my
mascara fan brush
just to do amazing things on my lower lashes. I get to keep my fingers, so why not? At least my bottom lashes game would still be strong and her's would be horrible, so there is that. What about you? What brush would you keep if you could only keep one?
Clumps of Mascara
- Tell us Wet 'n Wild...just how in the world do you make
a matte lipstick
that is also luscious and creamy?
(GX: these are amazing!)
Gouldylox
- I know I said reverse washing was poppycock, and it is. But this
Pre-Shampoo Treatment
? It is giving me the best air dried hair, ever.
My Newest Addiction
- The
NARS Hot Sand
collection has been out for a little while now but Laura is still over there gushing about it. You definitely wanna check out the post.
Nouveau Cheap
- The new Wonder Woman Beauty Collection is coming to a Walgreens store near you, but you can now get many of the items in this collection online.
Here's the scoop
!
Olive & Ivy
- Do you have stubborn dark circles that seem impossible to conceal? If so, you probably need to learn how to color correct! Learn
how to cover dark circles
in a few easy steps.
Phyrra
- Take a peek at my
Favorite Spring Lipsticks!
Brighten your complexion with a new lip color.
Prime Beauty
- Prime Beauty likes to feels like she's basking in the sun on a tropical beach with a pina colada in her hand even if it's only 40° and raining. How does she do it? With
FarmHouse Fresh Citrine Beach Body Milk
! Anyone up for a swim?
we heart this
- You wanna know what we REALLY heart? Kiehl's Calendula products. The toner is our editor-in-chief's holy grail skincare product. Did the
Calendula Deep Cleansing Foaming Face Wash
make that list too?
Beautygeeks
- We know that peach and orange tones can camouflage dark, blue-toned under-eye shadows. But
how do you fix brown dark circles
if peach corrector doesn't work?
Beauty Junkies Unite
Amber tried out the newest mascara from L'Oreal,
Voluminous Superstar Red Carpet Black
. C'mon, with a name like that -- you know you're curious! (GX: I wish I got the same results!)
Blushing Noir
- Get a natural contour in just
4 easy steps
!
(Wondering what the Lipstick League is? Find out here.)
f494694cd136f7e2ecee1080f4a6b70bcb22794aa3def4259c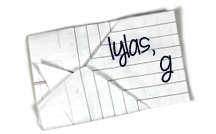 Find Kelly on
Google+
. Official
disclosure/disclaimer
statement can be found here.
Copyright 2009-2016, Gouldylox. All Rights Reserved.