Sent for review. Contains affiliate links.
You know all about
Sleek MakeUP
, right? They make beautiful pigments (especially palettes and lippies!) at a fraction of what you would expect to pay. They are one of the few lines I'll order offline without seeing anything in person because I know there is an excellent chance that the products will exceed my expectations.
Right now, I'm into a strong lip and brow, with minimal shadow. While I'm not pulling that look off every day, it's really quick and really simple if you've got the right tools. Each of these new
Lip VIP Lipsticks from Sleek MakeUP
are formulated with shea butter, coconut oil and vitamin E, so lips stay drenched, instead of parched. This lipstick feels like a substantial lipstick. Nothing about this feels like a drugstore product. It's perfect (and it's inexpensive!).
Private Booth, Backstage, Reserved, Guest List, Flaunt it, Night Spot
Each shade is a semi-matte
, which means it's full of color without giving your lips a dry, cracked look or feel. Each one delivers color that lasts for hours, even Photobooth (my favorite!), a light nude. If you look at these colors online, they look much less pigmented than they appear in real life. It's worth mentioning that Backstage and Guest List are very, very similar. Guest List has a little more heat and a drop more orange. Backstage is more pinky and a little more muted. Both are bright and feel like a Marc Jacobs lipstick. All of them retail for $8.49.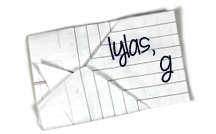 Find Kelly on
Google+
. Official
disclosure/disclaimer
statement can be found here.
Copyright 2009-2016, Gouldylox. All Rights Reserved.