Purchased by me. Sent for review. Contest by CVS.
Lately, I've been spending more time in my
CVS/Pharmacy
than
Sephora
. Crazy, right? Beauty tech and formulas are advancing at the speed of light and CVS is hand-picking the best of the best and offering them prices that won't make you cringe. There are so many items I've stopped buying at the mall. I've instead opted to use my ExtraBucks points to save big. Check out my favorites!
Vichy, Vichy, Vichy
! This is my favorite skincare line at the moment. I'm seeing real results, really fast. My favorite is the
Neovadiol Magistral Elixer
and the
LiftActiv 10 Serum
. And the
LiftActiv Retinol HA Eyes
and ProEven Night Spot Corrector
. I could go on and on. This line is amazing and I'm not sure why I don't hear more raves.
After one use,
John Frieda's Sheer Blonde Highlight Activating Conditioner
made my hair even shinier than I previously thought possible and made my highlights pop. I can't explain how, it doesn't deposit color or lighten your hair over time. But it works and it was way less than what I was using from Sephora.
Skin+Pharmacy
is bringing really effective products to CVS at much lower than mall prices, including dupes of really expensive products you'd like to try, but can't afford. Forget dropping a hundy on those acid-rich face wipes that turn over new skin quickly. Their
Anti-Aging Therapy Glycolic Peel Pads
($20!) work really hard to reduce fine lines and tired skin and their Acid Face Wash is as good as one that costs $100.
If you've loved the idea of
Wen
and haven't made the move to try it, CVS is offering a new line specifically designed for long hair.
Grow Gorgeous
is a lovely line that promises no harsh or yucky ingredients (it's SLS-free! huzzah!). I've been using the cleansing conditioner and need to get my hands on the
Cleansing Conditioner
for blondes. I've also been using the
Hair Growth Formula
for about a month and have seen small results. It takes a while for your growth cycle to kick into overdrive, so I'm excited for the results (and the packaging design is so cute, no one will ever know it came from the drugstore!).
Finally, you can take a lot of expensive supplements to beef up your hair, nails and skin. Instead of spending $50 a month on vitamins, grab the
CVS/Pharmacy Biotin Soft Chews
. They taste just fine, contain 10,000 mcg of biotin and work just as well as anything else I've tried. I swear by these!
Don't forget to save big with your
ExtraCare Card
. I swear one of these days, they are going to give me money back at the checkout. I saved over $15 with coupons on my last purchase! And remember, if you don't like what you buy, you can always return it. I'm not kidding. Use half and hate it? Get your money back! They even have
an app
that helps you manage your savings and prescriptions.
Get started with your very own $50 gift card to CVS/Pharmacy! Enter below and you could go on your own CVS adventure. $50 +ExtraCare rewards goes way farther than you think! US only. Must be 18. Void where prohibited.
a Rafflecopter giveaway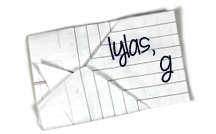 Find Kelly on
Google+
,
Twitter
or
Facebook
. Official
disclosure/disclaimer
statement can be found here.
Like this post?
Subscribe and never miss a thing!
Copyright 2009-2015, Gouldylox. All Rights Reserved.