No, my blog hasn't been hacked by breatharians. And no, I haven't been buying into Dr. Oz and his anti-makeup crusade of silliness.
I just wanted to remind you that you are gorgeous as you are. Gap-toothed, double-chinned and hair undone; you're gorgeous. I'm not trying to convince you that you look Giselle on vacation - Giselle's chiseled perfect appearance isn't real. You don't need perfect hair, that $30 radiant orchid matte lip pencil or Armani foundation to look radiant. You are already beautiful. As you are. (Once you're up, dressed and clean, that is. I'm not crazy.)


Don't get me wrong. I love makeup. I love it. I think about it all day long. I want line-less skin, a desirable mouth, ad-worthy hair and lashes that blow in the wind. I know it's not really attainable. But yet, deep down in dark places, something tries to tell me that kind of beauty is actually attainable. It's hard not to get wrapped up in the shiny glam of the beauty industry. Especially when you write about it every day.
Maybe it's all of the Photoshopped ads or the worth we place on the unreal beauty ideas in the glossy magazines. Instead of thinking, "wow, she's pretty," and moving on, somehow it funnels down, deeper into our brain...and it starts to tell us that the glossy photo is so much more. So much more worthy than we are. How often do we look at other women, compliment them on how nice their hair/jewelry/whatever is and automatically get a little jealous? I don't mean jealous on the surface. We all know better than to be jealous. But jealous in that part of your brain you don't like to think about too often. The part of your brain that gets confused between inspirational beauty, what is actually attainable beauty and the inevitable, negative self-talk. Those weird feelings bubble down below the surface and eventually take hold, chipping away at our own sense of self-worth. Even when we try to pretend they aren't there.
How many women say "I would never leave the house without makeup," and the masses of other women within earshot nod along, knowing they dare not show the world what their cheeks look like without the perfectly placed blush? What would happen if you went without makeup?

I'm going to guess nothing. Nothing would happen.

I often avoid wearing makeup on weekends or days off. Mainly because I just want to be free of trying to be flawless. I don't want to give in to my own beauty obsession. My dogs don't love me any less. My husband doesn't love me any less. No one has ever pointed and stared.

Don't get me wrong. I love the act of putting on makeup. It's fun for me to see the transformation and I love sharing my finds and tips with you so you can have fun transforming yourself. I have more eye shadow than I can ever wear and enough foundation to bathe in. Hair and makeup is a huge part of me, the way an artist loves his canvas or the way a musician loves their instrument. It always has been. The same goes for my hair. And that's cool, too. But that isn't what defines me and it shouldn't be what defines you.
It's easy to get caught up in the thought that you SHOULD look like someone else. And if you don't, then you aren't ok. Sometimes, we just need a little reminder that at the end of the day, it's not about your stunning waterfall braid or your on-point eye liner. Be proud of who you are and how you look without all of the fuss. You're gorgeous the way you are right now. Even if you don't like your skin or your hair or the shape of your face. You're beautiful. Not everyone was intended to be a size 4 or a Victoria's Secret model. Celebrate the unique traits that make you, you. That's ultimately what people will remember.
So I'm here to tell you that you look wonderful as you are. Your fresh face is exactly that. Refreshing. Carry yourself with pride and others will see what I see. A beautiful woman, proud of herself and radiant with the knowledge that she doesn't need makeup to be beautiful.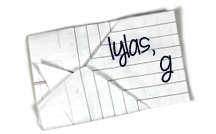 Beauty and Fashion Tech
Girl Xplorer
My Beauty Bunny

Find Kelly on
Google+
,
Twitter
or
Facebook
. Official
disclosure/disclaimer
statement can be found here.
Subscribe
and never miss a thing!
Copyright 2009-2013, Gouldylox Reviews. All Rights Reserved.