Question of the Week:
Is there a makeup application technique that you've tried to master, but just can't seem to conquer? I'm really bad at putting eyeshadow under my eyes. I'm not sure if I don't have the lid space or if my eyes are too small or what. It just never looks right. What about you?
Pink Sith
- is positively blushing at the name of the
NARS Blush called "Sex Fantasy"
. Not that she's a prude or anything.
Prime Beauty
- has finally found her Prince Charming...kinda. He is just one of the many calorie-free limited edition treats from the
Valentine's Day Collection at LUSH!
Indulge yourself and your sweetheart with no guilt! Trust me, you'll want to stock up.
Phyrra
- shares all of her favorite
Complexion Perfection
products. Find a new favorite foundation here!
we heart this
- Mega pores? Yeah, us too. Check out the latest from the
Benefit POREfessional line
and it can be our little secret.
Chalkboard Nails
- created a geometric nail art look using the neutral shades from the brand new
OPI Brazil Collection
.
Clumps of Mascara
- has come across an amazing mascara. No seriously.
Too Faced's Better Than False Lashes
is one of the coolest mascaras that I have ever tried.
Gouldylox Reviews
- These
five hairsprays
will change how you handle your hair.
My Beauty Bunny
- Manis, manis, manis! Jen and friends get ready for Valentine's Day with
gorgeous nail art
from Plush Beauty Bar. Come look and see.
N
ouveau Cheap
- Do you like the idea of long-wear lip colors, but hate the moisture-sucking properties that often go along with them?
These
might be just the ticket (and they're only $3.50 each)
Guest Post of the Week, as chosen by Pink Sith
- A simple yet lovely blog post about beauty. Here is a
beauty epiphany from Alice In Nappyland
and what a $1.99 lipstick taught her.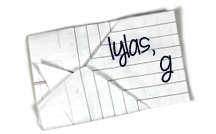 Find Kelly on
Google+
,
Twitter
or
Facebook
. Official
disclosure/disclaimer
statement can be found here.
Subscribe
and never miss a thing!
Copyright 2009-2014, Gouldylox Reviews. All Rights Reserved.