Question of the Week:
Do you use body scrubs? If so, how often and what are some of your favorites?
It's Lipstick League Sunday and today we're talking about scrubs.
My favorite way to remove dead skin does not require a traditional scrub of any kind. I love to use a
Hammam mitt
. Once you buy one, for less than the price of a drugstore mascara, you'll have it for years and it will never lose the ability to help your body feel smoother, younger and softer. For days when you just want to use an actual scrub, I can't get enough of the smell of the
A Girl's Gotta Spa Energizing Citrus Salt Scrub
. Seriously, just yum. Or, if you love gadgets, check out this
7-1 Facial Massager and Cleanser
. While the attachments are a little too small to use all over your body easily, you can smooth your heels, elbows and other rough skin in moments. This brush from
GraceandStella.com
comes with 7 interchangeable heads, including a facial massager. Truth: It's not the most sturdy piece of equipment ever made, but at $18.95, it's the perfect gateway gadget to see if splurging down the road is really what you want to do. How do you scrub? What should I try next?
Wondering what you've missed in the shiny, happy world of beauty this week? (I am too, actually. My new job is intense!) I did find some spare time during lunch to fal in love with these two palettes;
The Glambition Palette from Ittse
. and this one from
Jouer
. Did anything sparkly catch your eye? Here's what the rest of the League was digging or trashing this week.
Prime Beauty
- is adding a little more oomph to her tresses with the new newest
Luxurious Volume Collection by John Frieda
and they are available at the drugstore!
we heart this
- Which
Urban Decay red lipstick
is for you? We tried on 3 products and 13 shades to help you decide!
Beautygeeks
- is convinced that for the sake of our skin health, we need to
forget what the term "SPF" really means
. No joke.
Blushing Noir
- Of all of the influencer collabs, I'm so excited to share the
ittse x Love for Lacquer The GLAMbition Collection
! I'm in LOVE with what my friend Jess created with ittse. In the post you'll also find a 20% discount code.
Clumps of Mascara
- I hate summer but this
new China Glaze nail polish collection
might make me fall in love with summer juuuuuust a little bit.
EauMG
- Gallivant is a new collection of perfumes for urban explorers (and founded by the former creative director of L'Artisan). I'm totally in love with
Tel Aviv
, a cool fresh floral bathing in sunlight.
fanserviced-b
- Glossier recently released their Invisible Shield sunscreen. I think you should give it a hard pass.
Here's why
.
Gouldylox
- Resurface your skin while you sleep and
skip the irritation
! It's not too good to be true, I swear!
My Beauty Bunny
- I'm so hooked on Pixi skin care lately! Read about my faves
here
.
Phyrra
- Find out what I've been loving in my latest video,
May Beauty Favorites
!
(Wondering what the Lipstick League is? Find out here.)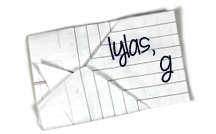 Find Kelly on
Google+
. Official
disclosure/disclaimer
statement can be found here.
Gouldylox
is a lifestyle blog focusing on beauty, hair, makeup, skincare, health, fashion, cannabis, weight loss, diet & fitness tips to help real women look and feel their best.
Copyright 2009-2017, Gouldylox. All Rights Reserved.