Sent for review. Purchased by me. Contains affiliate links.



It's spring and newness is everywhere. Looking to switch it up? Check out what makes my list of top ten favorites for spring.
Dove go fresh Revitalize Body Wash
delivers the juicy scent of mandarin and tiare flower (it's like a gardenia, I had to look it up, too). Oranges and gardenias? Is there anything more sunny, more uplifting and ready for spring? Plus it's still as hydrating as ever. This scent is just dreamy.
I'm obsessed with the
Fyola Lite ($99)
, although I'm not 100% sure I believe in it. It's this gadget that uses three different types of skincare technology to improve your own visage. Called "the face iron" by one of my friends, the Fyola uses galvanic energy (combined with their positively charged gel) to improve fine lines and wrinkles. It also uses this energy to propel skincare products more deeply into the skin, which supercharge their efficacy. According to Fyola, the galvanic treatment can also strengthen facial muscles. The Ultrasonic phase of this tool works to deep clean the skin and the Photon LED function helps repair skin faster, all while reducing inflammation. While I have no real way of knowing scientifically if this is genius or horse pucky (did anyone else's dad ever say that?), I swear I see a difference in my skin.
The undereye area for me is the first to show how I really feel. These luxe eye patches from
Callas La Divine by Feeligold
claim to reduce wrinkles by 40% after four uses. I'm seeing results after each application! These are fantastic prep before a special occasion and if you keep using them each week, periorbital wrinkles will lessen dramatically. You can also use them on nasiolabal fold lines, mouth and forehead lines and the dreadful "11's". These
aren't cheap at $154 for 4 pairs
, but if you need some serious help quickly, these are the ones to try. I've got a pack of four to give away to one lucky reader! Enter at the end of the post!
Salma Hayek's Nuance line
(CVS) over the weekend and was surprised by the formulation in the
Nuance Intense Hydration Hair Mask
. Filled with oils (not just silicones) it truly delivers softer, shinier, healthier looking hair after one use. Remember to use your
ExtraCare Card
to save big!
I know I mentioned it in a Makeup Wars earlier, but I'm obsessed with the
Build-A-Brow Waterproof 5-In-1 Micro-Fiber Crème Stain from IT Cosmetics
. They have a wide range of colors and it contains little micro fibers that actually help build out your brows. It's not like mascara, where you can see the fibers; these are super tiny and fill out your brows in a really natural way.
I am so excited to try this sunscreen, you have no idea. Tarte just released their first sunscreen,
Tarteguard
. It not only protects the skin from damaging rays of the sun with a mineral-based SPF of 30, but it also includes all kinds of good for your skin ingredients, like maracuja oil. I cannot wait to try this out!
What are you looking forward to in April? (And share away, it doesn't just have to be about makeup!)
Here's to a great April for all of us! Start it out looking well rested and a little younger with these eye patches from Callas La Divine and Feeligood!
a Rafflecopter giveaway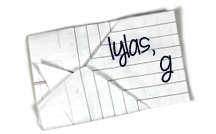 Find Kelly on
Google+
. Official
disclosure/disclaimer
statement can be found here.
Copyright 2009-2015, Gouldylox. All Rights Reserved.