Nothing to disclose. Affiliate links.


I'll hand it to Josie, she's always coming up with new ways to use Argan Oil and Coconut Water. Lucky for me, when I was in a shiny eye shadow mood, I happened upon her not-so-new collection of
Coconut Watercolor Eye Shadows at Sephora.
While they seem like they would be a hot mess to apply, they actually go on with no problems. They dried down much more quickly than I had thought. They were easy to remove and didn't crease oddly. Color me surprised!
You can also apply these shades without the doe foot, just by shaking the product with your finger over the opening and then applying to the lid. I really love the sheen it gives my lids. Especially with a tan. It's unlike any other product I own. I've been wearing it every day for about two weeks and I love it. If you want major shine, use the doe foot and get the pigmented bits from the bottom. Want something more sheer? Shake it up and apply with the applicator. Want a watery-like glisten? Apply with your finger. I want all of the colors.
While the colors are beautiful and the shine is intense, I'm not sure you could easily do a look with more than one color, unless you are really good at finger painting. However, once it dries down, you can add a powder shadow with no problem. I'm hooked.
Either way, try it for
yourself for $18
.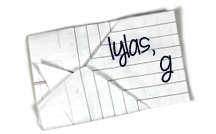 Find Kelly on
Google+
,
Twitter
or
Facebook
. Official
disclosure/disclaimer
statement can be found here.
Subscribe
and never miss a thing!
Copyright 2009-2014, Gouldylox Reviews. All Rights Reserved.