Sent for review. Contains affiliate links.




When Hourglass first told me they had created a 1.5 mm Mechanical Gel Liner that only gave 17 to20 uses, I thought they were crazy. When they told me the liner wasn't retractable (you can only expose more product, you can't roll it back into the pen), I thought they were loony. Then I received a press sample and I totally get it. But if you just check it out at Sephora, you won't see the magic. You need to take a leap and see if it's for you.

Here's the skinny on the thinnest, blackest, gel liner I've ever gotten the chance to use. It beats everything else on the market for tightlining.




Here are the specs:

The liner is 1.5 mm in a gel formula. That is beyond tiny, width-wise. The only other similar liner I've ever seen is one Mally Beauty used to offer that was a standard pencil. The Hourglass liner is smaller than that one.

While the pencil is mechanical, you can't retract the liner if you do too many clicks. Each eye requires one to two clicks of product.




Each liner will give you 17 to 20 uses (which seems insane, but you'll get three in a pack).

The liner is waterproof. It lasts all day on my upper lid (to tightline). It lasted about six hours on my waterline. It lasts until you take it off if applied on the eyelid (no waterlines).

It's only currently available in Obsidian (black).

Three pens retail for $45.


Don't bother checking it out in the store. The pens will be left open, dried out and empty unless you get them on the day they hit shelves. It's not a fair representation of how they apply or look. In reality, they are incredibly black and very easy to apply.
In fact, these are the easiest pencils to use--there is no dragging, no pulling, just dark, dark liner. The actual size of the gel line is smaller than my waterline. I can't believe I'm saying this, but if you are a lover of a good black liner, this is the
Bentley of liners
. Treated with care, you'll get about two to three months of use out of one package of liners, depending how often you wear them. These liners are worth skipping Starbucks a few times per week to work into your budget. I don't want to ever sharpen a Perversion again.
Obsidian
is the only way to go if you are serious about black eyeliner.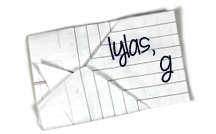 Find Kelly on
Google+
,
Twitter
or
Facebook
. Official
disclosure/disclaimer
statement can be found here.
Subscribe
and never miss a thing!
Copyright 2009-2014, Gouldylox Reviews. All Rights Reserved.