Classic Tshirt bra on the ends, with the Full Coverage Bra in the middle. I purchased and love all of these.
(I purchased these bras myself. Does contain affiliate links, like everything on the web.)
ThirdLove say they make the best bras
.
I've tried so many brands (at my heaviest, I was a GG!) and I thought my Chantelle bra was the best. I've been fitted professionally over and over, spending hours trying on different bras, trying to find one that fits perfectly, feels like pajamas and gives actual support. The notion of being fitted via a quiz seemed as daft as determining your profession by telling a Facebook quiz what image you see when you look at a Rorschach blot.
Once I took their fit quiz and tried my first
24/7 Classic T-shirt Bra
, I knew I couldn't look back. Those super expensive bras just didn't feel as comfortable as ThirdLove's slightly less expensive t-shirt bra. Simply put, I never knew how much discomfort I was putting up with every day until I tried ThirdLove. I had no idea that I was being squeezed. I didn't know anything could feel better than what I was already wearing. I've since picked up another Classic T-shirt bra, the Full Coverage bra, a Racerback (which sadly didn't work, but the website didn't suggest it for me) and a Strapless bra. Think you're impossible to fit? I did as well. However, the quick quiz easily guessed my size and was spot on. The straps stay up, the cups don't overflow and the fit is perfect. If you're too shy to go get fitted or just want to live in constant comfort, ThirdLove is amazing. Now if they would only create a sportsbra...
I love the racerback, but it didn't work for my breast shape. SO SAD!
Try
ThirdLove yourself and save $15
on your first bra. No worries - if you think the fit is wrong, as long as you don't pop the tags, you can always easily return or exchange your bra. I'm done shopping anywhere else for bras.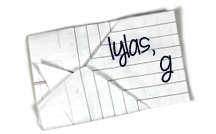 Find Kelly on
Google+
. Official
disclosure/disclaimer
statement can be found here.
Gouldylox
is a lifestyle blog focusing on beauty, hair, makeup, skincare, health, fashion, cannabis, weight loss, diet & fitness tips to help real women look and feel their best.
Copyright 2009-2017, Gouldylox. All Rights Reserved.