Sent for review. Contains affiliate links.
If you've overslept, taken a good nap or have fallen asleep before you've dried your hair, you've experienced wonky hair. That's what I call my hair when it's so close to being presentable--but it's not. Maybe it's one side that got crushed or your bangs aren't cooperating. Either way, you wake up, you've got no minutes to be presentable and get out of the door. A flat iron will require touching up your whole head and a curling iron may make it worse. You don't have time for rollers and you just CAN'T with a ponytail again.
So grab a
Luma straightening ceramic brush
that heats in sixty seconds and fixes hair in an instant. If you can brush your hair, you can use this brush (remind me to tell you what happened when I tried to make a perfect pancake, which is as easy as "turning a doorknob"). Here's how it works:
Start with dry hair only, never with wet.
Turn on the brush and wait for the green light.
Brush your hair, making sure to get into all of your hair, not just the top layer.
Keep your hands away from the green ceramic part of the brush--that gets hot!
Run the brush through your hair.
That's it. So easy.
Be sure to apply a heat protectant first as this baby gets hot! Watch your fingers, too. The green part of the brush (the ceramic part) sticks up a little higher than you might think, so be careful out of the gate. Touching up your style (or styling it completely) is really fast. According to the company, an average person can do their hair in 10% of the time! That makes total sense because I didn't go back over areas more than once (or maybe twice).
Be sure to adjust the temperature to a lower setting, as the higher setting was a little too hot for my processed hair. I fixed my wonky, slept-on style in less than five minutes for an easy good hair day!
This is a great alternative to a flat iron as it's easier to manage, especially if you're a little klutzy with the hot tools.
The Luma also makes pulling hair back while giving it an extra polish really fast. Think about smoothing out ponys or buns...straight, shiny, sleek hair on the outside, without having to ditch all of the inner texture and volume.
And those fly aways will stay down with a bit of spray!
If you need to smooth out or extend a blow dry, this will fix your morning routine. Grab a
Luma Hair Straightening Ceramic Brush
for $60.00.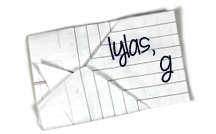 Find Kelly on
Google+
. Official
disclosure/disclaimer
statement can be found here.
Copyright 2009-2016, Gouldylox. All Rights Reserved.