Purchased by me. Contains affiliate links.
I can't believe I'm obsessed with another pink lipstick. Pinks are super girly to me and I've avoided them for most of my life...but look at me grow as a person! I think I might even be ready to call this my signature spring color. It's so juicy and pretty!
Urban Decay's new
Sheer Revolution Lipstick
($22.00) is available in 12 shades and I'm in love with
Lady Flower
. UD has all twelve shades,
Sephora
has ten and
Ulta
is carrying five. Lady Flower is available at Sephora and Urbandecay.com, but not at Ulta. Now that we've gotten that out of the way...
I'm obsessed with the color; a bright, rosy sheer pink. I swear it makes my teeth look whiter and it just makes me look perpetually happy. I'm not sure I can be in a bad mood in this color (but who am I kidding? I could swing a bad mood with a sweet lip, no problem. But it might be a bit
harder
.).
The formula is creamy and makes your lips feel like happy little pillows. I'm getting about an hour or so of wear time, but I can't honestly expect anything sheer to last much longer (although I bet putting
NYX Lip Lingerie Liquid Lipstick
on as a primer would extend it for hours. That gloss is as sticky as one of those self-adhesive envelopes. It would probably kill the sheer quality, which is beautiful, but the color wouldn't budge for hours.).
I think this might be my signature spring color. Have you picked one yet?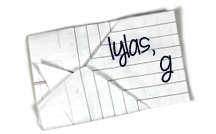 Find Kelly on
Google+
. Official
disclosure/disclaimer
statement can be found here.
Copyright 2009-2016, Gouldylox. All Rights Reserved.