Sent for review. Purchased by me. Contains affiliate links.
Last week was the craziest week in my (recent) life. My day job for the last 18 years has been to be the broadcast producer at an ad agency. I've worked with the same people for almost half of my life.
I. was. made. redundant.
Ouch.
They did offer to let me keep my job, but only on a part-time basis. Betting on myself instead of a part-time paycheck, I said adios to my work family and walked off into the sunset.
Blurg.
And of course that same night I had to go see some family who were in town for Thanksgiving instead of wearing footie pajamas and crying like I would have preferred. A complete hot mess, I stopped at Walgreens to grab something to brighten up (distract!) from my puffy eyes.
The color that turned my red eyes blue (or at least made me look human and not like a red, splotchy-faced, sad sack)?
Colour Prevails by Nonie Creme Paint & Varnish Matte Lip Colour & Topcoat in Retro Pink
. It's a matte! It's glossy! It wears for a long time. It's distractingly gorgeous. Which is exactly what I needed to make it through the next 2 hours.
Enough of my pity party. Back to why great lippies make bad days better.
Ahem.
Colour Prevails by Nonie Creme
Paint and Varnish Lippies
are gorgeous. One end delivers rich, long lasting satin-matte color. The other end seals the deal with an ultra glossy top coat that is not tacky or sticky. If anything, it extends the wear and hydrates the lips. The color range includes ten shades, which is perfect if you're building up a solid lip wardrobe.
I'm so sad I waited to try Colour Prevails by Nonie Creme. Each product is created with multiple purposes in mind so you can feed your creativity or fix your face with a quickness. Love.
It's a bright, but not too-bright pink. And it wakes up a face with no makeup. My co-worker came over to help me trim the tree. She knew I wasn't up to the task alone. She's the best! xoxoxoxxoxoxoxoxo
Colour Prevails by Nonie Creme
is only available at Walgreens.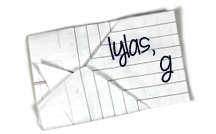 Find Kelly on
Google+
. Official
disclosure/disclaimer
statement can be found here.
Copyright 2009-2015, Gouldylox. All Rights Reserved.