Purchased by me. Sent for review. Affiliate links.

Happy Friday! This week flew by and I'm ready to relax. I'm still trying to get my newly blond hair under control (it's dry!), perfect dewy skin and figure out my new favorite lip color. Here are my favorites from the week! I know there are more than five. I can't help it!


Moroccanoil
pitched me a few weeks ago. While I want to try new stuff, I told them that I don't want to waste samples, that their original formula of the oil didn't contain enough oil for me, and I wasn't interested in knowing about anything unless they stepped it up. Low and behold, a few weeks later, a brand new
Pure Argan Oil from Moroccanoil
appeared on my doorstep. It's clear, it's light and it's 100% argan oil. Good on them (it's pretty great, too)!
This
Cat Eye's Palette from Too Faced
makes my heart race. If you haven't seen it yet, check it out and purr to your heart's content. Just went I was running out of cat's eye ideas, this palette is packed with new ideas and ways to wear the classic look.
While we are talking palettes, this new
Tarte Rainforest After Dark Eye and Cheek Palette
is perfect for right now! That time when you realize summer is half over and things will go back to normal way too soon. This palette offers up some shimmer, some matte and some beautiful contour colors. Plus a cheek color that looks amazing on pale skin--love it!
While I only like white chocolate, lovers of the darker variety will adore this
lip butter from Teadora
. It's so hydrating and so cocoa-flavored you won't be able to put it down. Or so I've been told. It's too chocolaty for me, but my friend Finn
loves
it. Try it for yourself. P.S.: It's vegan!
Want to polish your skin without abrading it? You'll love
Bella Schneider Beauty Instant Micro Exfoliating Cleanser
. It's a powdered cleanser that manages to polish your face without harsh abrasive nubs. I wondered why my skin looked so fresh after using it ... it didn't feel like a regular exfoliator. It's much more gentle, but yields similar results. If you visit their site, you're going to want to pick up the
beauty globes
. THEY ARE AMAZING. And not just at de-puffing your eyes, but also at helping a headache settle down, believe it or not...
I've been trying a lot of mascaras lately, looking for the best one for length. While nothing has beaten my
MAC must-have Studio Sculpt
,
Bobbi Brown's Smoky Eye Mascara
is a close second. It coats each lash with a dark kohl and never clumps. It takes a few seconds to dry down, but it's really buildable. It gives a thicker lash than the MAC. The MAC is my favorite, though. Long, skinny lashes make momma happy.
Finally, if you haven't entered this contest, please do it now! I'm pretty sure it's the biggest giveaway I've ever been a part of. If you win, you'll get a
$2000 VIP Beauty Treatment.
I really want one of you to win so I can find out what a $2000 beauty treatment is like! You've got to check it out (and report back to me immediately, if you win)! If you enter a photo, send it to me and I'll share it on Facebook!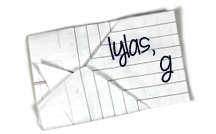 Find Kelly on
Google+
,
Twitter
or
Facebook
. Official
disclosure/disclaimer
statement can be found here.
Subscribe
and never miss a thing!
Copyright 2009-2014, Gouldylox Reviews. All Rights Reserved.