I recently got the chance to experience a one-day juice fast from Salma Hayek's company,
Cooler Cleanse
. While I'm more of a believer in a self-cleaning bowel than one that needs to be detoxed, I wanted to see what the fuss was about. I'm also doing Weight Watchers (I'm down 10 pounds in a month!) and had fallen off of the wagon a bit and thought this might be a good start. So after a little planning on when to receive the delivery, I signed up to juice on a Saturday. If I ever do this again, it will be on a day when I'm working and not so tempted by food. I also missed the memo on the need to eat lightly before I began, with no alcohol, loads of sugar or meats and
caffeine
. So I blew that, but as a vegetarian who doesn't smoke or drink, I didn't blow it that bad. The Starbucks Refresher was a bad idea the day before in hindsight, but whatever.
So why did I do it?
One.
To see if I could. I battle with food and binge eating, so I wanted to see if I could handle this for one day. (I've since learned that juice fasts are popular with people looking to control their eating, so if that is you, be careful.)
Two.
I was told it would help make my skin look more clear and glowing. Clearly, I want that so, check.
Three.
A few of my girlfriends have done this and love it. One of them has the best skin I've ever seen and the other one has a lifestyle of being relaxed and living for yoga (based on my assessment of FB status updates). So if I could get a little of both of them from six bottles of juice, I can give up a Saturday, right?
Four.
I wanted to see if I would somehow feel differently after a full day of eating the equivalent of twenty pounds of produce.
So I set out to ignore food and drink my six juices as prescribed by Cooler Cleanse. Not familiar with Cooler Cleanse?
Since 1999, Juice Generation founder Eric Helms has offered the ultimate juicing experience in New York City. In 2008, he received a very specific challenge from friend and fellow juicing devotee Salma Hayek. She asked him to custom-blend the perfect detoxifying drinks: raw, nutrition-packed juices that would improve her cleanses to make them as effective--and enjoyable--as possible.
Using his top-of-the-line hydraulic press, Eric created a rich array of nutritious concoctions from organic, sustainably grown produce. Salma taste-tested and reviewed them all. The process took months, and what started as a friendly challenge evolved into a dynamic collaboration to create their dream line-up of detox drinks.
The result of their efforts is a cleansing program that is easy to accomplish, ultra-fresh and absolutely delicious. To complete the cleansing experience, they worked with some of the best nutritionists and vegan chefs in Manhattan to develop additional raw-food menus, always using the premium-grade ingredients on which Eric built the success of his stores.
I received fresh juice on Friday, which was perfect for a Saturday cleanse. The juice is fresh for just three days, and only if it's kept refrigerated. If you live in NYC, it's available by courier for delivery on the day you would like to fast. Otherwise, it's sent via Fed Ex in cold packed boxes. You drink the first drink (they are numbered) for breakfast, one drink every two hours afterwards and then go

to bed early.
I slept in and had my first drink at 9:45, Sweet, which was an easy

way to start. It tasted amazing.

This is going to be a

piece

of cake.
At 11:45, I had another amazingly delicious juice, Citrus. I started Googling juicers to see if that is what I wanted for the holidays. I would later suspect that this specific juice is the devil

's work, but it was SO GOOD GOING IN.
Loxy and I then left to run errands and I took my third juice with me, Green, in a cooler. I started to drink it in the car and to use another writer's description of green juice, "it was like everything bad that ever happened to me in high school". I wanted to love it

, but I did not love it at all

. If you like the taste of celery, this is for you. Celery to me is like eating toothpaste. I. Can't. Do. It. I got half down and opted to be on the hungry

side and wait until 3:45.
Speaking of which, I was starting to get irritable. Make that angry. I had been keeping a diary of my experience on Instagram and friends were helping to keep my spirits up. You can ask Loxy, I was not pleasant to be around. I'm certain this is because I didn't drink the entire green drink. Looking back at this now, it's kind of funny that I was so irritated with Loxy and then expected sympathy when a slight side effect I had read about kicked in

later in the day.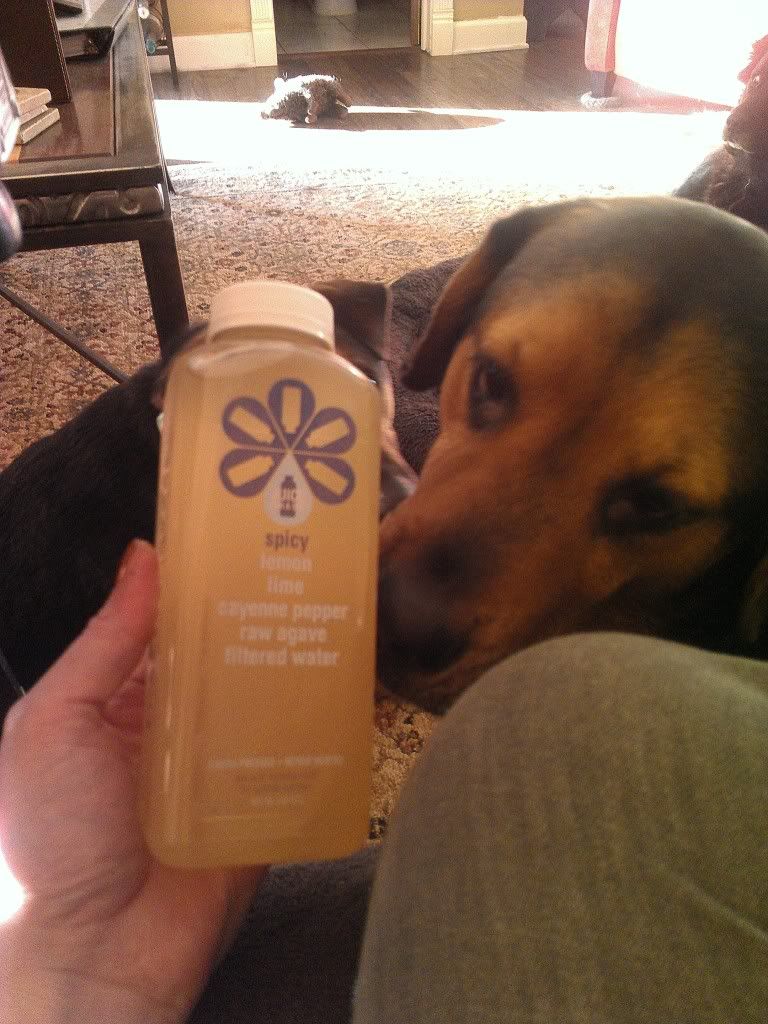 3:45 eventually rolled around and I happily drank juice number 4, Spicy, another citrus drink. It was delicious and Dirk Diggler wanted to get in on the juicing action. In fact, all of my pets were really

intrigued

by the juices and wouldn't leave the bottles alone. I thought I was getting sleepy and did have a small headache, but was otherwise fine. I wasn't really hungry and wasn't really craving

food for any other reason than I always want to eat something.

And then I experienced a small side effect

...
(TMI WARNING.)
Hot bowels are something associated with older cleanses, like the Master Cleanse. I hadn't heard of this before, but I'm going to surmise it's what happens when very citrus products come out of sensitive tissue, unblended or buffered. To get the the point, it burned on exit. The area could not be cleansed properly after "exiting", because the tissue could not be touched. I expected sympathy and I did not get really get it. Based on my previous irritability,

looking back on it, I'm not surprised.
Perhaps the green drink would have buffered the effects of the citrus. Lesson learned

for next time.
5:45 came quickly and I drank the fifth drink, Veggie, which included beet juice. This was kind of sweet and f

lavorful

, although may be a bit of an acquired taste. By now I was pretty irritated, but at least I wasn't hungry. Physically

hungry

, no. Mouth hungry, yes. But that is a bigger issu

e.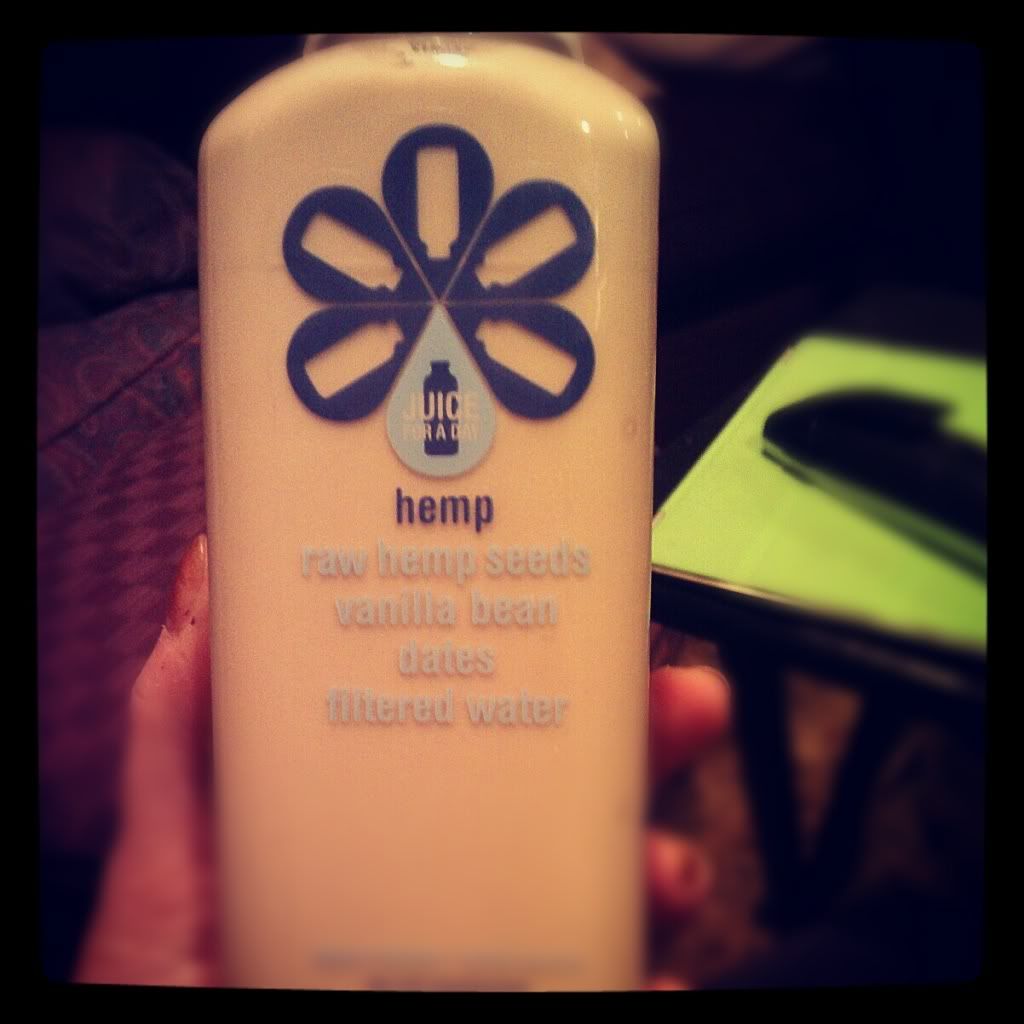 Finally, at 7:45, I was able to drink the last juice of the day, Hemp, which contained much more fat and calories than I anticipated. It was fairly creamy and sweet, but also an acquired taste. Th

is juice was a nice way to end the day

. I was just thankful there was no more cit

rus.
I went to bed slightly earlier than usual. I did it! I'm not sure I felt any different after eating so much produce, but I didn't feel w

orse for the wear.

The question is

, would I do it again? While most of the juice was delicious, I think I would rather supplement with juice than fast. That said, I have a feeling that when January 1st rolls around, I just might try it again.
You can try this 24 Hour Juice Fast from Cooler Cleanse (or a longer cleanse) by visiting www.coolercleanse.com.
Have you done this? W

ould you try it again?
Sent for review.
Official disclosure/disclaimer statement can be found
here.
Subscribe
and never miss a thing!
Copyright 2009-2012, Gouldylox Reviews. All Rights Reserved.