I can't make up my mind about foundations. Last week I raved about TEMPTU and the look it gives me, but I can't stop looking for something even better. It's my downfall. Shiny objects always catch my attention and results in me constantly looking for the next best thing.

The most recent foundation to pique my interest? Cover FX. If you aren't familiar, Cover FX offers a bevy of different foundations to help cover all of your skin care woes. Rosacea? Acne? Scars? Cover FX has you covered. Creator Lee Graff has been working in the field of corrective makeup for years and has perfected the art with Cover FX.




Natural FX
, a water based liquid foundation with an SPF of 15. This foundation provides the most sheer coverage of all of their foundations. Although if you have imperfections to conceal, this foundation will give you enough coverage to ensure you are still looking picture perfect.
I really liked how it looked on my skin. It definitely allowed my own skin to show through, while hiding redness. I hate when foundations cover my skin completely, making me look perfect, but as if I am wearing a mask. So I was really pleased that this offered coverage with room to breathe.
I also opted to use their incredibly popular
Camouflage Concealer
, which is great for layering to build the right amount of coverage without looking like you are overly made up. I finished up with a little bit of their
Setting FX
, a translucent powder that locks in color. The Concealer comes in six shades and the foundation itself comes in 20 shades, so one is bound to be a perfect match. And before I even started applying the foundation, I used their
Skin Prep Nourishing Foundation Primer and Anti-Aging Serum
. (The primer rocks and is worthy of its own review later.)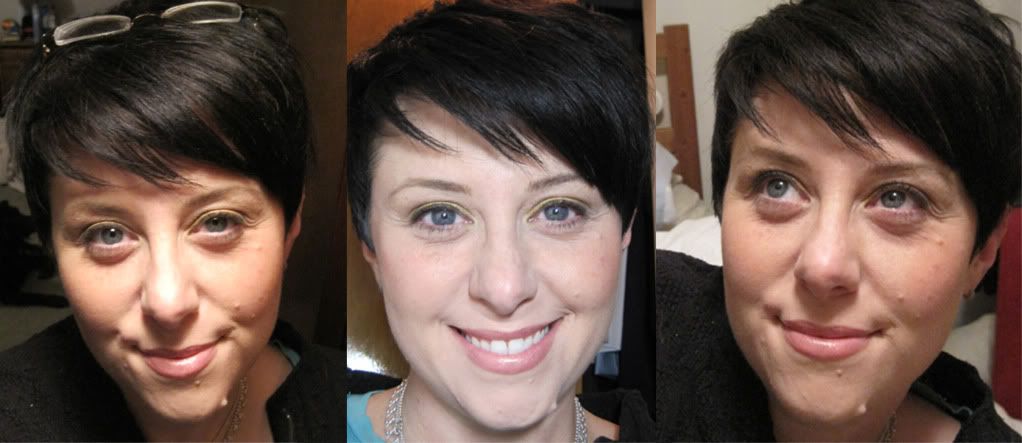 (The light in my house is not great. Here are three different views of how the same foundation looks.)
Recently, I have been having a hard time picking the right foundation color because my face has quite a bit more yellow in it than my neck, and making them meet in the middle has been challenging. I am thrilled with these results! This foundation wore nicely all day with no need for touch ups (except a tiny bit of powder after a stressful meeting). I love how creamy and flawless my skin looks - what do you think?
Have you tried Cover FX? Like it? Tell me in the comments!
Subscribe
and never miss a thing!
Disclosure/Disclaimer Statement
Copyright 2009, Gouldylox Reviews. All rights reserved.