Today, Leslie Blodgett's new perfume, Bare Skin will hit shelves in Sephora. Leslie believes that scents are like memories and created a line of signature scents reminiscent of her favorite trips. The fragrance collection, Leslie Blodgett Perfume Diaries, is a limited edition collection available only at Sephora.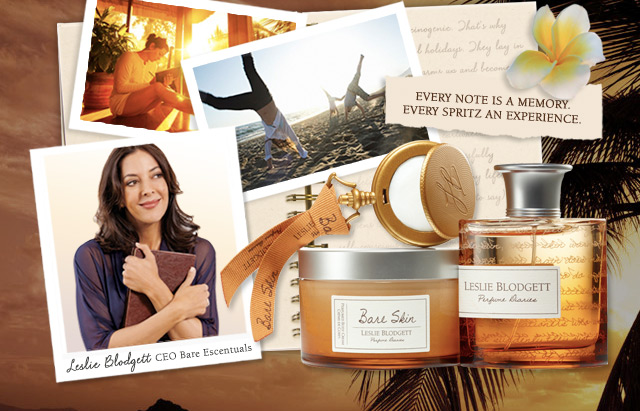 The first scent released, Bare Skin, is based on a favorite trip she took to Mexico. "When I have an experience, I like to have a scent behind it. Bare Skin, which is what Mexico reminds me of, is the way you feel when the sun is beating down on you during the day, but then you go out at night and you're still sizzling from the warmth of the day which mingles with the night air and the music."


So what does Bare Skin smell like? The top notes consist of Black Pepper, Freesia and Anise. The heart notes are Iris, Vanilla Orchid, Plumeria and Patchouli and the bottom notes are Sandalwood, Labdanum and Musk. The final effect? Leslie hopes you will feel as if you are basking in the sun of Mexico, enjoying your day and waiting with anticipation for the unforgettable night ahead.

I tend to wear scents like fresh air and clean cotton, so this might not be for the fresh and floral ladies, but if you like warmer, muskier, sexier scents, this may be for you! However, one of my favorite trips ever was to the Mayan Riviera in Mexico, so I am curious to see if it invokes memories of my trip - I can't wait to get my hands on this to find out.

Want to try it before you buy it? Leave a comment telling me your favorite vacation spot and you will be entered to win a sample of the perfume for yourself! Want to enter twice? Tweet about this contest and double your chances! A winner will be selected on November 1, so enter and tweet by October 31st at midnight!

Feeling really lucky? Check out Leslie's vacation giveaway on Facebook!

Subscribe and never miss a thing! Copyright 2009, Gouldylox Reviews. All rights reserved.