Question of the Week:
On a typical day, how many products do you use on your brows?
I have sparse, very light brows and would love to be able to get microblading to fix my tails. Since that isn't in the cards for me at the moment,
Fiona Stiles Brow Sculpting Wax
($13) has been my go-to for about three months. While Stiles only has one color, the harder the pressure when applied, the deeper the color appears. It doesn't move, come off with sweat and looks totally natural. It fills in gaps, keeps unruly hairs in control and stays put. I haven't found a huge amount in that line that I really love, but the brow wax is worth every penny. (Plus, it will last you more than a year, easily.)
How many brow products do you use?
I just posted about this the other day, but in case you missed it, you've got to check out this Chocolate Truffle Exfoliator from Jan Marini.
It's almost too chocolate-y to use. Seriously, I'm not sure you can handle just how chocolatey delicious this smells. If you have a chocolate lover on your holiday list, grab these up before they are gone for the season.
Now on to the best of beauty news and reviews from the Lipstick League!
Clumps of Mascara
- Matching foundation is incredibly tricky for all makeup users but it's even more difficult when many brands don't cater to dark skin. I've found 20 brands that actually give us darker girls
REALLY good foundations
.
EauMG
- This week I'm reviewing the new Penhaligon's Portraits Collection, a collection with major "Downton Abbey" vibes. I started the week off with
The Tragedy of Lord George
, the patriarch of this dysfunctional, fictional family.
Gouldylox
- My hair is in the best shape it's been in for years, thanks to
two products and a flat iron
that uses steam. Want infinite good hair days, too? (You know you do!)
My Beauty Bunny
-
These Chella brow and lash products
are major game changers! From eyebrow pencils to highlighters to heated lash curlers,
Chella
has got you covered.
Nouveau Cheap
- Have you ever had something on your wish list for so long that you feel like it's going to disappoint when you finally pull the trigger? Well I finally pulled the trigger on It's Skin Cookie & Body Ice Cream from Sephora and you can
click right here
to see if it was worth the wait.
Olive & Ivy
- I have rounded up the
BEST Sephora holiday beauty gift sets for 2016
! These always sell out SO fast so if you see one you love, grab it quick!
Phyrra
- Channel your inner Evil Queen with my
Ever After High Raven Queen Makeup Tutorial
!
Prime Beauty
- found a matte liquid lipstick that is actually long lasting AND comfortable to wear! If you're a matte lipstick lover, be sure to read about
Highlight Matte Liquid Lipsticks!
we heart this
- We swatched and created looks for the entire Urban Decay Vintage Capsule Lipstick Collection!
Check them out here!
Beautygeeks
- has discovered that if you close your eyes
when you're misting your face with thermal water
, your eyes are missing out.
Beauty Junkies Unite
- There are 5 new spa-quality facial masks at The Body Shop, and Amber has tried them all!
See what she loves.
Blushing Noir
- If the packaging of the
MAC Nutcracker Sweet Collection
doesn't get you the products will - Magic Dust Powders, Lipsticks, Palettes… just try to stay focused!
(Wondering what the Lipstick League is? Find out here.)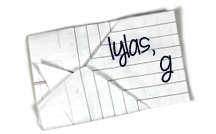 Find Kelly on
Google+
. Official
disclosure/disclaimer
statement can be found here.
Copyright 2009-2016, Gouldylox. All Rights Reserved.