Hey now, little sisters! How have your last two weeks been? I've heard from a few of you that you've lost serious weight--I'm so proud of you !! Sorry I didn't check in with you last Friday - honestly, the news (and the reaction on Facebook) made me too sad to write about weight stuff. My heart is still broken. I'm sad and I'm mad, but I'm back!
(Note: This was written before the attack in France on Thursday. )
This week I wanted to talk about struggling with the late night munchies, again. We've
talked about the Mouth Monster
before, but he's been really tricky for me over the last week or so. Since all of the positive self talk and "picking the path that leads to your goals talk" can only get you so far on those nights when the Mouth Monster is growling (instead of your actual stomach), here are some tips I'm turning to to take my mind off of things.
1.
Exercise instead
. I know. It's obnoxious to even suggest, but it's helping me. I love the library of pilates workouts at
Pilates By Lisa
. I can't tell you how many times I've turned to a short workout while I watch TV to take my mind off of peanut butter. (Yeah, I watch tv and do pilates. It takes a lot to make me stop thinking about peanut butter!)
2.
Meal Enders
. You've probably seen their ads on Facebook and wondered if they worked. Guess what? They DO!!! (And they are great if you acquire the munchies the old fashioned way, too!) Each
Meal Enders lozenge
is covered in a sweet candy coating that is delicious. As you savour the "candy", it switches from sweet to a flavor that actually makes your taste buds tingle. You literally forget that you wanted to eat something else, because you aren't actually hungry. It's like a time-out pill for the Mouth Monster. They are available in several flavors - Cinnamon is my favorite!
3.
Dive into some blueberries.
I've been talking to my nutritional therapist a LOT about my evening eating and she's suggested that when I can't resist the need to feed the monster that I reach for blueberries, a perfect source of antioxidants. They aren't as high in sugar as other fruits, making them a better choice. It's better to walk away, but blueberries are delicious!
4.
Get a nutritional therapist
. I've mentioned that
I'm seeing one before
, but our sessions are so helpful I can't stress how awesome the concept of a nutritional therapist actually is. We talk about everything; from why I'm having a weird day to how eating certain foods will set me up for more success late at night to almost tearing up when I realize what the root of my food problem may be related to... You may not have complicated food issues and if you don't, consider yourself incredibly lucky. For those of us that struggle, getting a health counselor you love is awesome. The
woman who I am currently seeing does do Skype sessions if you want to check it out
and aren't local. Plus she brings me presents each time!
Got any other good ideas to try, other than not keeping whatever food triggers your late night eating in the house? Share with me, please!
Missed any of my other tips?
Try this
. Or just
subscribe
and I'll let you know when I've posted next. I'll try to return to some old fashioned motivation next week. In the mean time, have a great week - you've got this!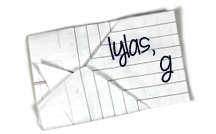 Find Kelly on
Google+
. Official
disclosure/disclaimer
statement can be found here.
Copyright 2009-2016, Gouldylox. All Rights Reserved.