Sent for review. Contains affiliate links.
How much time per week do women spend pampering their faces? Considering they spend an average of
55 minutes each day getting ready
, at least 10 of that has to be taking care of their skin, right? But what about your hands and neck?
If I'm being honest, I spend almost no time on my non-face. How crazy is that? I won't step one toe into daylight without an SPF on my face, but my hands and neck? Whatevs. And that's why it's a good thing I like scarves.
However, I hate wearing gloves. And since I am no Diane Keaton, I decided I'd try to reverse some of the aging I've caused by being lazy. I want something with retinol, something that would brighten and something to hydrate and protect the skin I've been ignoring so diligently. And if it could silently apologize to my skin for my sins, that would be awesome, too.
The skin on your hands and neck are so delicate and so often forgotten, they end up showing our ages way faster than our faces. To try to correct both, my hand and my neck, I decided to try two new products from
Jan Marini
.
The
Luminate Hand Cream
is possibly one of the more expensive products I've tried. At $135.00 per 2 oz size, they are asking a lot. However, this contains retinol, antioxidants to protect delicate skin from the sun, six different brighteners and lighteners and even smells amazing. Hands are instantly brighter and, over time, begin to even out in tone while no longer appearing crepe-y. Check out the
clinical before and afters
for yourself.
The
Marini Juveneck
firms and lifts skin along the neck and jawline, softens the appearance of fine lines and claims to even reduce deeper wrinkles. Plus it contains peptides to smooth the texture of the skin. Feather this down to your decollete to firm the surface skin while also evening skin tone and lessening wrinkles. The
before and afters are pretty stunning
. (And they have that fun slider that makes before and afters really entertaining.)
While neither of these products actually telepathically apologized to my skin as I had hoped, I think my hands and neck will get the idea that I'm trying to give them a little extra help. I've only been using them for about two weeks but I definitely think I'm seeing an improvement! I'll update this post in a few more weeks. In the meantime, if you've tried these, let me know how it worked for you.
Buy
Marini Luminate Hand Cream
for $135.00.
Buy
Marini Juveneck
for $90.00.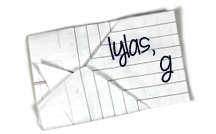 Find Kelly on
Google+
. Official
disclosure/disclaimer
statement can be found here.
Copyright 2009-2016, Gouldylox. All Rights Reserved.