Sent for review. Contains affiliate links.
Take the world's most famous ruby slipper, color match it, add a twist of berry, a hint of jelly, a primer and optical diffusers and you've got
It Cosmetics Blurred Lines Smooth Fill Gel-Crème Lipstick in Ruby Slippers
. ($24.00)
Ack! Pardon the prints!
It's relatively new -- have you tried it yet? I love this formula.The Blurred Lines Smooth Fill Gel-Crème Lipstick is all of the above and more. Smooth and hydrating; pigmented but still glossy enough to be casual. The wear time isn't the longest, but it's not too bad. It's got enough wear and pigment to last most of the afternoon, but not enough to mess you up if you want to wear a lighter color later. Know what I mean?
Want to extend the wear by at least an hour? Apply the lipstick as usual. Then take one ply of a tissue and
It Cosmetics Bye Bye Pores Airbrush Silk Pressed Anti-Aging Finishing Powder
($29.00) and lightly dust it over the tissue and your lips. Without pursing or "mm-mm-mm-ing" your lips together, apply another round of lipstick.
Mwah! You're set for a long time and you're glossy. How can you not love this?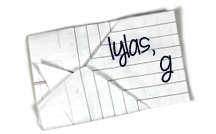 Find Kelly on
Google+
. Official
disclosure/disclaimer
statement can be found here.
Copyright 2009-2015, Gouldylox. All Rights Reserved.