Purchased by me. Contains affiliate links.
I have been going back and forth on the new Maybelline Lip Gloss Palette since I first saw it weeks ago. I didn't buy it the first two times I crossed it's path, mainly because of this. How messy must gloss be in palette form? If it's not too thick, then it can't have much color. It seems like a good waste of $12, not to mention a gooey mess, which is why I didn't grab it from the get go.
These look oddly matte before you touch them.
Flash forward to me aimlessly wandering around Ulta, looking for something new. And before I knew it, the Lip Gloss Palette had jumped into my basket.
And them boom! Shine city!
After another week of just staring at it, I opted to wear the fourth pink from the left, the bright one, to a big lunch meeting. When I had swatched this earlier in the morning, the swatches were pale. (Which is probably why I reached for the bright one, first.) However, upon actual lip application, the color was stunning. Like a lip jelly, with more staying power and pigment. Or maybe it's more like a lip lacquer with a touch of jelly?
Me, at the very end of the day, like midnight. I reapplied the lipstick, but nothing else.
Here's some crazy news. That bright pink I wore to lunch? It lasted through my salad and drinks. By the time I finally got home, about three hours later, my lips were still stained, but the gloss had faded. That color seriously exceeded my expectations. WOW.
I haven't seen this in stores since. If you see it, grab it
for around $12.
...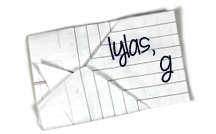 Find Kelly on
Google+
. Official
disclosure/disclaimer
statement can be found here.
Copyright 2009-2015, Gouldylox. All Rights Reserved.