Products sent for review. Contains affiliate links.
It's no secret that I'm more likely to wear a Snuggy to a New Year's Eve function than an actual well-planned, blog-inspiring look. But if I were, I would do this jaw-droppingly gorgeous look by my crazy talented friend and makeup artist,
Nicole Palermo
. I'd even rock that beaded headband. More about Nicole in a sec but for now, just take this in and tell me you aren't considering this for your NYE inspiration.
I want fussy hair and a crazy gorgeous headband. How many times a year can you do fussy hair without people thinking you've gone wonky? Take the opportunity when it presents itself! If you can pull it off wherever you're going, please do this whole look--fussy hair and all--and send me a photo!
In the meantime, I asked Nicole (who you'll be hearing a lot from in the new year!) exactly what she used to get the look:
So who is Nicole and why do you need to know? Nicole Palermo is the makeup artist who inspired me way back in the day. With copy of
Making Faces
in hand, Nic and I would recreate some of the looks and experiment like crazy for hours and hours. It was when my love of makeup reunited with my soul and I've never looked back. I was lucky enough to nab her for my wedding makeup back then, and now, I've been lucky enough to get Nicole to share what inspires her with everyone at Gouldylox. This is exciting, guys. Like, really exciting.
2016 is going to be a great year. Now send me a photo if you choose to go Gatsby for the New Year!

Happy New Year, little sisters!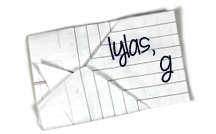 Find Kelly on
Google+
. Official
disclosure/disclaimer
statement can be found here.
Copyright 2009-2016, Gouldylox. All Rights Reserved.