Sent for review. Contains affiliate links.
I don't know about you. Personally, I'm at a crossroads, trying to figure out my next steps in life. Do I take a staff position or open my own company as a freelancer and completely depend on myself? Yikes, it's all so scary! While I'm always inclined to bet on myself, that doesn't mean it's the best decision. But what if it is?
Design the Life You Love: A Step By Step Guide to Building A Meaningful Future
by Ayse Birsel is a totally unique workbook. Instead of looking at life as a list of items to check off (married? house? kids? job? graduate?), Design the Life You Love encourages you to look at life differently. And it's fun to read and work through, not scary or intimidating in the least.
Start by taking it apart. Look at the pieces. See how else they may fit together. Create a situation you'll be passionate about and you will have designed a life you love. I know it's not as easy as it sounds, but sometimes looking at something from a totally different perspective is exactly what you need to push you in the right direction.
Part coloring book, part inspiration and all awesome, if you are looking for your path and you can't seem to find it, try looking at everything differently. This workbook may be exactly what sparks your creativity and leads you down the road you never thought possible. After all, it always seems impossible until it's done.
Grab
this workbook
just in time for the New Year from Amazon for $12.00/$15.00. Change starts with one step. Let's do this!!!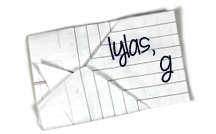 Find Kelly on
Google+
. Official
disclosure/disclaimer
statement can be found here.
Copyright 2009-2015, Gouldylox. All Rights Reserved.