Sent for review.
Reviva Labs never ceases to amaze me. Just when I think a product won't work, it goes and blows my mind. I'm becoming a bit of an addict when it comes to sheet masks and eye pads. But these
Collagen Eye Pads
from Reviva Labs are in a league of their own.
According to the company:
"German scientists recently discovered Myoxinol, an extract from the hibiscus flower, is able to relax facial wrinkles providing an Botox® -like effect. Clinical tests showed a 26% wrinkle reduction after three weeks of treatment.
"Collagen-Fibre with Myoxinol combines hydration and wrinkle relaxing action Adding Myoxinol to our already renown Collagen-Fibre Eye Pads increases cumulative effects. The Collagen instantly plumps and smooths skin while Myoxinol subdues an underlying cause of wrinkles by relaxing facial muscles for a smoother, younger appearance
."
But do they work? I applied the
Collagen Fibre Eye Pads
according to the directions. You begin by applying the Energizing Skin Gel under the eye area. Then apply the eye pads, which contain freeze dried collagen. To activate them, you'll dampen them with a wet cotton ball. Then you wait.
Once I removed them, I immediately texted one of my besties to tell her to pick them up (she's always worried about puffiness). I was very impressed by how flattened the skin under my eyes was. I'm talking almost ironed flat. Pretty striking, right? These aren't going to give you de-wrinkled, de-puffed eyes forever, but they will give you 12 to 72 hours of age defying eyes.
If you use them weekly, you'll see cumulative benefits. Keep these on hand for special events so you can always successfully lie about your age. Or at least about the amount of sleep you got last night. If I had a magic bag of beauty tricks, these would definitely make the cut.
Try them yourself for $38
.
Have you found anything that works instantly like this? Don't keep those kind of secrets to yourself! Tell me!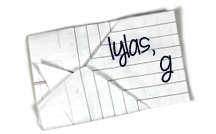 Find Kelly on
Google+
. Official
disclosure/disclaimer
statement can be found here.
Copyright 2009-2015, Gouldylox. All Rights Reserved.