Sent for review. Contains affiliate links.
I love it when other bloggers get the chance to design their own makeup. We all know, it's not just about picking colors or formulas; it's about noodling a product until you're proud to put your name on the box. I haven't been impressed with most of the other blogger collections, but some have been major hits (You go, Colour Pop!). So how does my favorite
GlamLifeGuru Tati Westerbrook's new LOC line for Birchbox
fare?
Let's take a look! It contains three matte lipsticks, five shadow sticks and a sharpener ($46). If you didn't see
Tati's super heartfelt vid
describing what this collection means to her, check it out. It's so sweet!
It's time to get down to business. How do these stack up?
Let's discuss the lippies first. In the
Ultimate Collection
, you'll get three matte-ish lipsticks.
First Kiss
is a peachy nude that looks like Tati's signature nude. It's a satin matte that probably looks best on medium or deeper-toned women. I feel like it washed me out a bit, but I'm so pale and nudes are seriously tricky.
Wildest Dreams
is a gorgeous satin matte red that will look awesome on anyone and everyone.
Glam Life
is a deep purple that I promptly lost because obviously, I can't be trusted with these. But more on that later...
You'll also get five
One and Done Shadow Sticks
with major color payoff and blendability.
On Point
is a shimmering nude.
Day Trip
is a metallic gold.
Impress Me
is a bronze.
Smoke Screen
is a sexy metallic gunmetal.
Nite Owl
is a deep purple.
These shadow sticklets are so metallic and so creamy, you'll love using them to get that signature Tati glam look. These also sheer out really easily, so over-blending with your finger or a brush (my fave) can erase the color fairly quickly. These take a little practice, but deliver if you have the patience.
When these are first applied, the color payoff is intense. You're going to want to use a primer so you'll get a completely smooth look.
After you apply the first color, you'll want to let these dry down for a few seconds before touching them. Trying to blend them right away will remove too much of the intensity.
Using a fluffy shader brush, blend out the edges and just lightly fluff the color itself. This will buff out any "scaling" of the pigments, without removing too much of the color. If you want to sheer these out even more, use your finger.
If you blend too quickly, your intensity is dialed down. If you don't blend quickly enough, you'll lose the ability to blend at all. The perfection lies somewhere in the middle, depending on your primer, lid type and preference. Once these have dried down and settled, they aren't moving until you take them off!
There is one big drawback (Sorry, Tati).
They are minuscule. Similar to what I assume that
Stowaway
line is like. Each shadow contains .05 oz of product. For comparison, an Urban Decay shadow stick contains .10 oz as does the Mally Beauty Shadow Stick. So in comparison to other products, they are a little smaller. However, since there is no extra packaging, these little sticks are, well, really little. The Tati lippies weigh in at a scant .02 oz, versus a .10 Mally lippie stick. Tiny.
Which is why I no longer have the Glam Life lippie. It's gone missing. And while I'm hopeful it will return, I doubt it. I'm sure it was gorgeous, too.
Darn.
Grab these for
$46 from Birchbox
and get the Tati look for yourself. These pencils do make it really easy and the sharpener is adorable to boot. I love how long the colors last and how easy it is to get Tati's look. I just wish these were slightly larger. Although for the money, it's a great set and it's amazing for travel.
What do you think of blogger collections? Who's have you purchased in the past?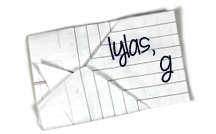 Find Kelly on
Google+
. Official
disclosure/disclaimer
statement can be found here.
Copyright 2009-2015, Gouldylox. All Rights Reserved.