Sent for review. Contains affiliate links.
Question of the Week:
How many skincare products do you use every day?
I use way too many. And after my Korean Beauty Skincare Makeover yesterday at Sephora (get one, if you can!), maybe I'm not using enough? The K-Beauty routines have so many steps. But WOW. My face felt and looked amazing afterwards.
Here's what I'm doing for my skin, right now.
Cleansing:
Erborian Solid Cleansing Oil
- This one is new to me. I just started it today! It's an interesting concept and my skin feels amazing afterwards.
Essence: What's that? An essence is an extremely concentrated source of skincare applied after washing. Right now, I'm in LOVE with
Kiehl's Iris Extracting Essence Treatment
. It makes the skin look amazing in a fresh, radiant way. A little goes a long way. And never use a cotton ball! You'll waste it all!
Serum:
MitoQ Serum
is a new serum that claims to recharge our mitochondria batteries, slowing and reversing the signs of aging. Sounds impossible, right? I have no idea if the science is solid, but I'm testing both the serum and the supplement. According to the brand,
MitoQ's patented technology delivers powerful antioxidant support to mitochondria, the power source of your skin's cells, restoring their vitality so they can fight the symptoms of aging. The results? Re-energised cells, and younger looking skin.
Face Firming:
Lumeme Time Freeze Instant Lift V-Shaping Serum
is like a bra for your face.
Moisturizer:
Bosica Sake Balm uses
fatty alcohols to hydrate the skin and plump fine lines and wrinkles. I just picked this up yesterday and it feels so good. SO. GOOD.
SPF:
Kiehl's Super Fluid UV Defense SPF 50
locks in your skincare and preps the skin for an amazing makeup application. Oh, and it stops sun damage.
I'm also trying out a slew of beauty tech and masks, but I'm under contract and can't speak about those things just yet. However, I tried this
dentist office grade teeth whitener
and got two shades lighter in about 30 minutes total. That rocked.
Check out what the rest of my friends have been up to this week below! And you've
entered to win
a set of hair extensions in your color, right? If not, enter to win that NOW!
My Beauty Bunny
- Love LUSH? We do too! So we're sharing our
5 Must Have LUSH Items for Your Bag
.
My Newest Addiction
- If you are in need of some fabulous new
makeup brushes
that wont break the bank find out which ones Laura has been addicted to. She also has a discount code for you!
Nouveau Cheap
- So Sephora reformulated their Supreme Cleansing Oil and it is now mineral-oil-free. But is it effective at removing makeup, including stubborn mascara?
Here's my full review
.
Olive & Ivy
- rounded up the best of the
best Sephora holiday gift sets for 2015
! Which ones will you be getting?
Phyrra
- shares her favorite makeup & nail polish to match
Pantone Fall 2015 Colors
!
Prime Beauty
- shares
5 New Beauty Discoveries
you need to know about!
we heart this
- Body acne just ain't cute.
Murad is here to help.
Beautygeeks
- A big beauty brand known for its "anti-aging" serum makes a point of
dropping the "anti-aging" term
with its newest release although it has many benefits we usually file under Fights-Signs-of-Getting-Older. Do we agree with this positioning?
Beauty Junkies Unite
- Amber found
6 top affordable eyebrow products
that will keep your brows looking fierce! See what made the cut.
Blushing Noir
- Brooke shows how easy it is to wear silk on your lips with the new
Yves Saint Laurent Rouge Pur Couture Lipsticks
. They're so good you'll have to buy more!
Clumps of Mascara
- is giving away a
Clarisonic Mia
and a few other fabulous beauty items. This is an International-friendly giveaway. Enter enter!
EauMG
- Hello, October! Victoria is so ready for fall. But, before moving on to her usual rotatation of autumn fragrances, she shares her most worn perfumes of
Summer 2015
.
Gouldylox Reviews
- Don't fall for the biggest lie of the season. Buying pink isn't really doing you or anyone else much good. Chances are, it's not really going to help the women and men fighting an awful disease.
Here's why.
(Wondering what the Lipstick League is? Find out here.)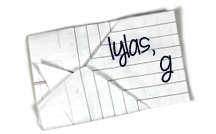 Find Kelly on
Google+
. Official
disclosure/disclaimer
statement can be found here.
Copyright 2009-2015, Gouldylox. All Rights Reserved.