Sent for review. Purchased by me. Contains affiliate links.
It's time to start staving off the signs of aging. It's not as hard as you think. Choosing products with thoughtful ingredients, in stable packaging that will actually work isn't as hard as it seems. And it doesn't have to be as expensive!
To avoid aging, ever*:
Don't smoke. Laugh more than you frown. And unless the moon is out, slather your face, neck, hands and decollete with sunscreen.
Try these:
Nuance Salma Hayek Oil-Free Sheer Liquid Veil SPF 50
, $10.00
Kiehl's Super Fluid UV Defense SPF 50+
, $38.00
To hide fine lines around your eyes:
You'll want a hydrating eye cream that won't slide down your face while encouraging the skin to heal those wrinkles.
Try:
Skin + Pharmacy Advanced Anti-Aging Therapy Hydrating Eye Cream
, $15.00
Shiseido Wrinkle Resist 24
, $55.00
To erase fine lines around your eyes, mouth and forehead:
You'll need to have patience or throw money at the problem. I suggest the latter, because it works so much more quickly.
Try:
Nip + Fab No Needle Fix Serum
, $20.00
Dr. Brandt Skincare Needles No More™
, $89.00
To fake that youthful firmness you no longer have:
This honestly works so much better than I ever expected. My face was getting saggy. This isn't quite a bra for your face, but it's kinda like a bra for your face.
Try:
Lumene Time Freeze Instant Lift Serum
, $25.00
To plump your really dry skin with hydration:
This combination works so well, it's almost too hydrating for my skin. I haven't said that since Prescriptives made a version of Flight Cream for really dry skin.
Try:
Skin + Pharmacy Advanced Anti-Aging Therapy Dual Action Moisture Boost Gel
, $20.00
along with the
Skin + Pharmacy Advanced Anti-Aging Therapy Hydrating Serum
, $20.00
Don't forget to scan your
ExtraCare
card at the kiosk in CVS/Pharmacy for coupons and
ExtraBucks
. You can literally save more than half of your purchase if you use this card and shop often. I swear they are going to start giving me money back. If you're not doing this, you've got to jump on this train. I'm not a coupon girl and I'm addicted!
What is your go to-skincare for the fall?
* You're still going to get older. But you'll look so much younger than those who did nothing. Truth.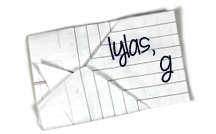 Find Kelly on
Google+
. Official
disclosure/disclaimer
statement can be found here.
Copyright 2009-2015, Gouldylox. All Rights Reserved.