Sent for review. Contains affiliate links.
Beachy waves are my favorite summer style. It's all about finding the perfection in imperfection. You want a little bit of wave, a little bit of chunky-ness and some shine. It's usually easy to make hair look perfect. Undone hair is harder than it seems, kind of like the no-makeup makeup look.
To get the look:
Start with hair that is dry; either roughly dried hair, air dried hair (if your hair is already more straight than not) or second day hair.
Spray a heat protectant, like
Hot Muk Thermal Protector
, on the hair. Muk is a fantastic brand from Australia and if anyone knows about protecting hair from the sun and elements, it's Muk. This spray locks out humidity, protects from sun damage, protects your color and stops heat damage. It will also add a touch of shine to the hair, which is important.
Section the hair above your ears into a bun
and clip it out of the way. You'll just want to get part of the hair out of the way, while you work on the bottom layers of your hair.
Using the
ISO Beauty Waver
,
set the iron to a higher temperature for the underside of the hair
(I use 375.) You'll want your waves to looks slightly different throughout your hair and this is the fastest and easiest way! This Waver has a wide range of heat settings and uses tourmaline and ceramic plates. This means easy, equal heat that helps prevent frizz. The Beauty Waver also only takes about 60 seconds to heat up, which is really fast!
Starting with
two inch wide sections, clamp them in the iron and hold for about 5 seconds
. Repeat this throughout the underside of your head. This iron is fantastic for this look because the barrels are small enough to actually give noticeable waves with smaller sections of hair. If you want looser waves, taking a slightly thicker section will still deliver without frying the hair.
Next, you'll want to
repeat the same process on the top layer of hair
.
Turn the temperature of the iron down by about 15%
(I use 325), so the waves will not be the same intensity. This allows the hair to move and blend in a very natural, undone way. The combination of looser and tighter waves looks natural, easy and gorgeous!
Allow the hair to cool momentarily and then add a bit of sea salt spray to give the waves that touch of chunkiness.
Beach Muk's Sea Salt Spray
uses natural sea salts, which will give the hair a mattified look. Just be sure to treat your hair to a good masque after a day or two of using so much salt!
This look hinges on varying up the technique, temperature and texture. Have fun creating your exact recipe. I love knowing that this look is even better on the second day!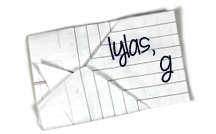 Find Kelly on
Google+
. Official
disclosure/disclaimer
statement can be found here.
Copyright 2009-2015, Gouldylox. All Rights Reserved.