Question of the Week:
What was your first "signature scent'? Do you still wear it?
I have loved so many. Obvs, the first is
Love's Baby Soft
. I don't remember wearing one in high school other than a REALLY old bottle of
Chanel No. 5
I "borrowed" from my Mom's vanity. In college, I was all about Jessica McClintock and Calyx (which now smells gross to me.) And I can't forget that one perfume, Pear Glace', from Victoria's Secret. Right now? I waffle between
Leila Lou and this, despite not caring enough to google what a Sud is. Also, for funsies, I've added my own comments to the links below, so check'em out!
My Beauty Bunny
- In the mood for a bright and colorful summer palette that's also cruelty free? The oh-so-pretty
Pacifica Power of Love Coconut Infused Mineral Eye Shadow Palette
is a must see! (And available at Target.)
My Newest Addiction
- Need some fabulous new lippies? Laura shares with us a few of her new favorite things from
Rouge Bunny Rouge
and the Glassy Gloss shades she has are gorgeous.
Nouveau Cheap
- G. finally (finally!) tried some ColourPop eyeshadows! Check out her in-depth review of the ColourPop + CoffeeBreakwithDani Metamorphosis Quad
here
.
I, Gouldylox, also love this palette, so check out my review, too!
Prime Beauty
- takes the new
Too Faced new Born This Way foundation
for a spin. Does it live up to the hype?
Phyrra
- gives you the deets on
Strobing
, makes recommendations based on skintone, and shows you how to do it! Hint, you already have the products in your makeup collection.
Note from Gouldylox: Can we just call it highlighting? Enough with the renaming of stuff my mom did before I was born, Makeup Gods.
we heart this
- drugstore body wash has brought their A game with
this line's new additions
. Check them out!
Beautygeeks
- Summer is (sort of) here, and suddenly we have frizz on the brain (almost literally). If your hair's more Sideshow Bob than Gisele, you'll want to try some or all of these products in this
extra-strength frizz-fighting regimen
.
Note from Gouldylox: I haven't even clicked this link yet, but I'd be willing to match up my # Frizz fighter against whatever might be listed in Beautygeek's post. It's been my product of the week for more than 3 weeks and I literally can't find anything else I like better. Obliphica gave me back my hair. I don't even know what else to say. It's amazing.
Beauty Junkies Unite
- Amber is back from a lengthy medical leave, and she'd love to have a
quick heart-to-heart with you
before delving back into glorious beauty product reviews!
EauMG
- You've heard of the "slow food" movement, but have you've heard of the "slow perfume" movement? Victoria reviews a
small batch, limited edition perfume
that is absolutely satsifying.
Glitter.Gloss.Garbage
- Are you in love with stippling? Here are
5 brushes
you need to improve your skills!
Gouldylox Reviews
- I can't be the only one dealing with a serious case of the feels this summer, right? Check out some of these
colorful ways to cope with stress
.
Love for Lacquer
- What do you keep in your
pool bag?
Check out Jess' essentials now!
(Wondering what the Lipstick League is? Find out here.)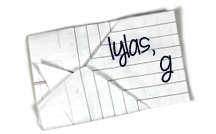 Find Kelly on
Google+
. Official
disclosure/disclaimer
statement can be found here.
Copyright 2009-2015, Gouldylox. All Rights Reserved.