Sent for review. Contains affiliate links.
It's not easy to find a contour kit that works well on porcelain skin. Sure, you can add shine, but what if you just actually want to highlight the skin? This gets even harder to accomplish if you want to look natural and not like you just walked out of the screens of Instagram. For the very fair, contouring has been really tricky because the tones have been too dark or too brown.
I've looked high and low for something that can show off my cheekbones without making me look striped and I've finally found it. The
NUDESTIX Sculpting Pencil
is a really easy way for the truly fair to get the look. (And the medium version of the same pencil will work for the sort-of-pale and medium toned ladies.)
Instead of a dark brown (gasp!) or a dark taupe (better!), this pencil has a salmon tone to boost contours (if it's dark enough). This gives a totally natural look, which is what is missing from the contour kits that flooded our feeds last spring.
Notice my cheeks, chin, center of nose and above my brows are gently highlighted, without the sheen.
And here's a bonus: You can use that salmon end of the pencil to hide blue-ish circles under the eyes! This contour isn't dark enough for my very vanilla skin, but it works MIRACLES if you apply it under your eyes before you concealer. Forget that baking nonsense- it'll leave you wrinkled and chalky. This will allow you to look like a regular beauty, without looking heavy. Flawless, natural coverage under the eye isn't easy to achieve, but this rocks.
My favorite way to apply this contour pencil is to start by applying my foundation. Then I draw on my face, just like the
Sephora app
told me to. Next, I blend with a Beauty Blender (or my fingers) and that's it. Natural, easy and flawless. Just the way I like it. The matte highlight shade is perfect for adding a touch of light, without the shine. It's naturally gorgeous (just like the rest of the
NUDESTIX
collection!).
Grab the
Sculpting Pencil from NUDESTIX for $24 .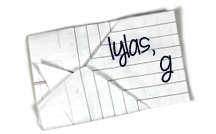 Find Kelly on
Google+
. Official
disclosure/disclaimer
statement can be found here.
Copyright 2009-2015, Gouldylox. All Rights Reserved.