Sent for review. Contains affiliate links. I bought this.
While this is an older photo from last winter, this is the texture of my hair that I've been fighting. It's not smooth like hair at all. It's like cotton candy and in the humidity and rain, it just becomes totally insane and unmanageable.
I've been freaking the freak out for the last few months wondering what will tame my frizz. I'm researching, talking to those who specialize in the science of hair and discussing techniques and ingredients with any pro that will talk to me.
So of course a
banner ad
is what led me to Aveda's Smooth Infusion line. Let's just start out right now pointing out the claims that this line makes. There are two basic smoothing products, plus some shampoos, masques, conditioners, yada yada.
Smooth Infusion Naturally Straight
actually relaxes your curl as you continue to use the product. It also tames frizz and smooths the hair, even if you aren't curly.
Smooth Infusion Glossing Straightener
relaxes the hair while it's being used and hair returns to normal once it's washed out. This also adds out of this world shine.
So once you've decided if you are a straight forever or a straight for right now kind of girl, you'll want to wash, condition and partially dry your hair. Then you'll need to apply the
Smooth Infusion Style Prep Smoother
. This acts like a primer for your hair and helps the Smooth Infusion of your choice work harder and repel humidity.
What you want to do is add your choice of smoothing treatment equally throughout the hair. This is really important. Not sure how much to use? Divide your hair into two ponys. Feel the circumference of your ponytail? That is how much product you'll want to use on either side of your head. For me, that's about a nickel on each side.
Comb the product through the hair. Blow dry as fabulously as possible. Try sectioning your hair like a pro, which really helps. If needed, you can flatiron. But you may not even need to bother.
This is me yesterday. Yes, it's cold again outside and it's June. It was also raining. BUT NO FRIZZ!
My hair was beautifully shiny and straight for three complete days over Memorial Day Weekend, after only one use. I was outside, admiring lawn work and BBQing and I had no frizz. NO FRIZZ. I don't even know what to say about that.
I don't think I even need a smoothing treatment anymore. This will do just fine and I won't risk damaging my hair further. This is like a game-changing miracle and I don't know how it escaped me when it launched.
Thank goodness for those pesky banner ads.
Grab the line wherever
Aveda is sold for $24-68
.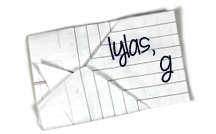 Find Kelly on
Google+
. Official
disclosure/disclaimer
statement can be found here.
Copyright 2009-2015, Gouldylox. All Rights Reserved.