Purchased by me. Contains affiliate links.
I'm all about mascara brushes. Sure, formulas are important, but anyone worth their weight in mascara knows that the brush is where it's at. From giant caterpillar brushes to tiny, hard combs, the brush is what changes the shape and length of lashes. My favorite? I love the hard combs that are curved to the shape of the lashes to really get into the roots of my lashes.
But this brush on the new(ish)
Rimmel Kate Idol Mascara
is insane. It's curved kind of like the
Lancome's Hypnose Drama Instant Full Volume Body Mascara,
if the Lancome mascara took magical pills and steroids and went wacky. It reminds me of something a cartoon bombshell would use to comb her ten perfect lashes into the sexiest possible fringe.
So what does this mean for your actual lashes in real life?
I have amazing luck getting one side to look fantastic. But then, because the brush is such an oddity, you have to change hands and apply to your non-dominant side with your non-dominant hand.
And I can't really do that.
However, I do use different parts of the brush to comb out different parts of my lashes. I use the straighter end to hit the bottom fringe. I use the thicker part of the brush to cover the middle of my lashes. When all is said and done, I think both sides look equal. I think.
This builds volume and stretches out the ends of my lashes slightly, for a sexy shape. Kind of. It doesn't flake and the Eye Rock Jet Black is a really inky black. So I dig this mascara, I just wish it was easier to apply to my non-dominant side. I guess I have some practicing to do...
Grab it wherever
Rimmel is sold for around $8
.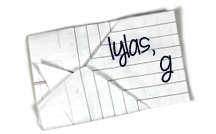 Find Kelly on
Google+
. Official
disclosure/disclaimer
statement can be found here.
Copyright 2009-2015, Gouldylox. All Rights Reserved.