I bought all of this.Contains affiliate links.



I haven't done one of these posts in forever! I try so much makeup and report back on what I love that I don't always get to tell you what didn't work for me. There's only so much time in the day and I'd rather share what you SHOULD try instead of telling you what not to try. I'm a glass half-full girl! (Or at least I try to be.)
Here is what was a total flop for me this spring.
Living Proof Curl Enhancing Mousse:
I really wanted this to transform my bleachy, damaged waves into glorious hair that would require no styling at all for the summer. Asking to much, you think? My expectations were too high and this mousse did nothing to set it apart from it's $2.99 drugstore counterparts. Now that Living Proof Straight Spray, that is another topic!
Becca Beach Tint Summer Souffle
:
I had such high hopes for this cheeky product. I thought it would deliver a sheer wash of color that would leave me with a lovely flush and a touch of shimmer. It left me with no color, no shimmer, nothing. More like just washed instead of awash in color. Boo.
Make Up For Ever Sculpting Duo in Light:
I thought this highlighter would be amazeballs. Everyone raved about it. Sure the contour color is a shade away from orange, but the HIGHLIGHTEROMGITSAMAZING! It wasn't. No color payoff, not much shine. It swatched beautifully in the store and ate donkeyballs on a makeup brush.
LANCOME Shine Lover Vibrant Shine Lipstick:
It sounds shiny, right? Meh. It looked like every other lipstick I own, didn't last long on the lips and wasn't even that shiny. It's way expensive to be that blah.
Too Faced Better Than False Lashes EXTREME:
I'm going to guess there was a reason they didn't do a big PR push behind this product. Too Faced is one of my favorite brands of forever and this did not deliver longer lashes or anything else. It was a mess.
Urban Decay Naked On The Run Palette
:
How many more semi-shiny brown shadows do I need? The blush was too pink for me. I loved the gloss, but not almost $60 worth of love.
What made you go "meh"? You know I'm dying to know!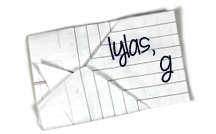 Find Kelly on
Google+
. Official
disclosure/disclaimer
statement can be found here.
Copyright 2009-2015, Gouldylox. All Rights Reserved.