Sent for review. Contains affiliate links.

** I'm going to say this upfront. This post is talking about brightening the skin, adding radiance and reducing unwanted hyperpigmentation. In no way am I talking about or promoting skin bleaching. I'm talking about what frustrates me with my own skin: hyperpigmentation from sun damage. **



I've been battling the signs of sun damage like a superhero ever since I realized I could fix it with a variety of peels, lasers and topical creams. However, like those last five pounds, that remaining pigmentation is stubborn! I've discovered that most ingredients can't even scratch the surface when it comes to seeing real results. Berries and fruit acids are kids play. They do not work on my skin. I don't even bother trying those kind of products anymore.
Algenist
recently launched an entire line,
Genius White
, that not only offers anti-aging skincare benefits but also includes a brightening complex with a successful track record. Ascorbyl glucoside is a powerful form of vitamin C mixed with glucose. The combo of the two creates a powerful antioxidant that offers the brightening of vitamin C with the anti-aging benefits of an antioxidant powerhouse. Plus, it helps to reduce the appearance of melanin, which is ultimately what is responsible for dark spots! The AlgaBright Complex helps to ensure skin is brighter, smoother and more radiant. Combined with Algenist's signature Alguronic Acid, the brightening and anti-aging power is real!
The system includes a Cleanser, a jelly-like toner officially deemed a Brightening Moisture Softener, a Concentrated Brightening Essence, a Brightening Anti-Aging Emulsion and a Brightening Anti-Aging Cream. The whole collection looks and feels luxe. The products are creamy and there is no stinging, no redness. In fact, I had no negative reaction to any of the products. Stinging and redness usually go hand and hand with products that lighten the skin. That aspect is totally absent with Genius White.
My skin looks and feels smooth, although texture isn't a huge issue for me. Spots are my issue. Take a look at the before and after. It's only been six weeks. But since Algenist touts results at 10 and 28 days, I thought I would share them now! I can really see a difference where the blotches are starting to break up, especially on my nose.
What do you think? I'm really happy with the overall brightness and luminosity this collection provided. I do wish it was a little more hydrating. My skin is super dry and I did feel like I had to add an oil to my skin care system. Which is fine with me. You know I love my face oils.
Grab it at Sephora for $40-$293. If you decide to try it, please share your experience with all of us!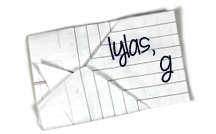 Find Kelly on
Google+
. Official
disclosure/disclaimer
statement can be found here.
Copyright 2009-2015, Gouldylox. All Rights Reserved.