Question of the Week:
What product do you find you are always recommending to people in real life (in addition to in the online beauty community, on your blog, etc.)? I'm always getting hair questions from people in real life. I'm always shocked that none of those asking know about dry shampoo. It adds volume and style to hair, while absorbing excess oil and giving your second (or third) day hair a bit of bounce. The one I always recommend is the Suave Dry Shampoo with the yellow top (not the Keratin formula). It smells great and I've not met many who don't love the scent!
My Newest Addiction
- Laura tells us all about her
favorite skincare secret
and has an AWESOME GIVEAWAY to boot! You HAVE to find out what it is!
Nouveau Cheap
- The L'Oreal La Palette Nude 1 and La Palette Nude 2 ten-pan eyeshadow palettes are (finally) here! Were they worth the wait?
Here's my full review
.
Prime Beauty
- Prime Beauty knows a great set of brushes makes all the difference in makeup application. Read her review of the
Mikasa Beauty Classic Brush Kit
and get 25% off your order!
Phyrra
- shows you
How to DIY Your Foundation
for a perfect match!
Vampy Varnish
- Loves the new
Cirque Colors x Nordstrom Collection
and thinks you should check it out if you love holographics and glitters!
we heart this
- Like you need another nude palette! Except,
you kinda do need this nude palette
...
Beautygeeks
-- Dermalogica founder Jane Wurwand knows things about skin (and rebuilding a failing industry -- #inspiring). She told us she sees
two major issues with skin today.
Are you struggling with one of them?
Beauty Junkies Unite
- Amber found her holy grail solution to hangnails, pesky dry cuticles, and dull nails. Will all-natural Nail Butter become your nail treatment solution too?
Come on over to see if it's meant for you!
Clumps of Mascara
- loves discovering new brands. Have you heard of Eddie Funkhouser? I am in loooove with
his lippies
.
Gouldylox Reviews
- Want to look Photoshopped IRL? Take your look from warm to cool with a quick dusting of this
tinted setting powder
from Too Faced.
Love for Lacquer
- Looking for a fabulous face mask? Jess shares her thoughts & results on the
Revelations RX face masks
and even has a giveaway & special discount code available!
(Wondering what the Lipstick League is? Find out here.)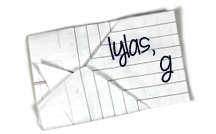 Find Kelly on
Google+
. Official
disclosure/disclaimer
statement can be found here.
Copyright 2009-2015, Gouldylox. All Rights Reserved.