Question of the Week:
Have any of your favorite fragrances been discontinued? If you had the ability to bring back any discontinued fragrances, what would they be? Way back in the day, I was really into perfumes. Maybe it's something in my schnoz, but I can't smell the same way anymore, so perfumes don't hold the same allure for me that they used to. You know what perfume I loved? I mean LOVED?
Victoria Secret's Pear Glace
. That was the SAUCE. You?
Gouldylox Reviews
- Want to dramatically
change how your skin looks
? This is the line that will do it (and won't break the bank!)
My Newest Addiction
- Laura shares her favorite pieces from the
MAC Cosmetics | Disney Cinderella Collection
with a full review and swatches! A truly awesome collection.
Nouveau Cheap
- The latest celeb to roll out a makeup line is actress Eva Mendes. Is her new CIRCA Beauty brand (exclusive to Walgreens) worth a shot?
Here are my initial impressions
.
Prime Beauty
- needs to drink more water and so does her skin! Quench your thirsty skin with the new
Neutrogena Hydro Boost Moisturizer!
This gel moisturizer feels like a dream!
Phyrra
- Feel like it's too hard to go cruelty free? I've got the
Beginner's Guide to Getting Started with Cruelty Free Makeup
! It's an easy list of what brands to look for at Sephora, Ulta and the drugstore!
Vampy Varnish
- Loves the new
Benefit Roller Ball Mascara and thinks you might too!
we heart this
- go behind the scenes on our
photoshoot with COVERGIRL,Herbal Essences and Olay
(Celebrity stylists! Balloons! Katy Perry's Guacamole!)
Clumps of Mascara
- Lancome does it again with giving us an extraordinary mascara. One coat of
Grandiose Mascara
will send your lashes way waaaay out, girl.
EauMG
- reviews an
indie perfume
launched ten years ago which really was a "game changer" for independent perfumery.
(Wondering what the Lipstick League is? Find out here.)
we heartsters, if you had the ability to bring back any discontinued fragrances, what would they be?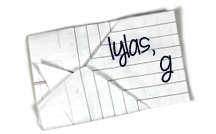 Find Kelly on
Google+
. Official
disclosure/disclaimer
statement can be found here.
Copyright 2009-2015, Gouldylox. All Rights Reserved.