Purchased by me. Contains affiliate links.


Ever feel like no matter what you do, your makeup isn't working? Like you just don't have the skills to beat face like the makeup aficionado you know you are? I was starting to wonder if I needed to take a class in blending or pay someone to re-teach me how to do my brows. I wasn't happy with anything.
I started realizing that I
needed better light in my makeup room
. It had to be the light, right? So I researched the best kind of light (sunlight, obvs.) and how to fake it (get bulbs with a high CRI of 90 or more) and position them directly in front of your face. It's such a process to set up and figure out. Plus, the mirror I was using was too small with no magnification. And the space I use to get ready is tiny, so I don't have room for a big mirror with bulbs that surround the frame.
After chatting with my friends in the Lipstick League, I starting thinking about upping my makeup mirror to something that would fix everything. The
SimpleHuman Sensor Mirror
offers an 8" mirror with 5X magnification and true daylight bulbs that you never have to change. And it's $200. Ouch. All of my friends swear by this mirror and they gently convinced me that it would be the best $160 ever spent at Bed, Bath and Beyond. I downloaded a coupon, considered this the most crazy purchase ever and grabbed one of the last ones on the shelf at my neighborhood BB&B,
Oh. My. Gods.
Paula from Older Girl Beauty
was right. This was not going to be good for my sanity. The first time I sat down to do my makeup, I took off my foundation and did it again. Then my brows were a mess and I re-did them twice. Finally, an hour later, I was able leave my new mirror.
This was a terrible mistake.
Until I looked in a regular mirror. WHOA.
My makeup was flawless
. I looked like one of those pinterest guru's with their perfectly blended shadow and fierce brows. (Well, sort of. Let's not get crazy.) I've never gotten so many compliments as I did that first day.
The
SimpleHuman Sensor Mirror
automatically turns on and off when you face the mirror. This means if you stop looking in the mirror for a few seconds, the mirror will turn off. While this doesn't bother me, if you move around a lot while getting ready, this might be annoying. If you leave this mirror in your bedroom and the cat discovers it, you may decide you hate it. The 5X magnification is perfect for being able to see your entire face at once, at a large size. However, it won't work as a stand alone mirror if you need to use it for your hair.
This mirror also doesn't need to be plugged in. It charges via a USB and one charge lasts for about 5 weeks (so the box says). You don't need to change the LED bulbs, possibly ever. There is one small button on the bottom of the mirror that can turn the mirror off, should the cat end up causing a problem.
Overall, if you are serious about makeup or if your eyesight isn't as great as it used to be (or a bit of both), this
mirror is a true game changer
. It might be one of my favorite purchases of all time.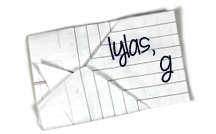 Find Kelly on
Google+
. Official
disclosure/disclaimer
statement can be found here.
Copyright 2009-2015, Gouldylox. All Rights Reserved.