Image from namaste-beauty.com. Please check out her blog!
Question of the Week:
Name a beauty item that was discontinued that you wish would come back, even if it was only for a limited time. Ooh. This is a hard one. I don't fall for LE items often. The only one I've ever hunted down and bought extras of so I would feel safe is an Estee Lauder summer bronze-gelee-powder thing that I had sales associates hunting down on twitter for me. (I think I still have an untouched one. It's so pretty. Now where did I put it?)
Phyrra
- Looking for an easy way to
fill in your eyebrows
? Try my quick and easy tutorial!
we heart this
- If you use our $10 off coupon, you can get $384 in products for just $39.99 (including shipping!) Check out the
FabFitFun Winter VIP box
...
Beauty Junkies Unite
- Have you tried L'Oréal's latest mascara yet? It's called
Voluminous Butterfly Intenza
mascara, and I've got the scoop and before/after photos. What do you think?
Clumps of Mascara
- can't get enough of those gorgeous polishes from
Cirque Colors
. If you love holographic polishes, you pretty much HAVE to buy these.
Glitter.Gloss.Garbage
- A well pigmented, long-lasting
blush stick
for $2.99? You have to check this out!
Gouldylox Reviews
- Try a lob
before you go in for the chop
! It's easier than you think (and you could win $100 of styling products!)
Love for Lacquer
- Love is in the air! Be prepared to be blown away by the new
Valentine's Day
collection from Different Dimension!
Nouveau Cheap
- Want a handy list of all the new 2015 products from Wet n Wild with photos, prices and product info?
Here you go
!
Prime Beauty
- shows you the
Charlotte Tilbury Fallen Angel Palette
which truly takes you from day to night AND can be worn wet or dry!
(Wondering what the Lipstick League is? Find out here.)
Guest Post of the Week, as chosen by Phyrra
- My friend Eugenia is awesome and I love her blog and videos. I wanted to share her
Top 10 Beauty Products of 2014
because I adore many of her choices!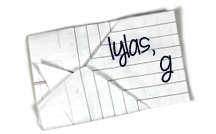 Find Kelly on
Google+
,
Twitter
or
Facebook
. Official
disclosure/disclaimer
statement can be found here.
Like this post?
Subscribe and never miss a thing!
Copyright 2009-2015, Gouldylox. All Rights Reserved.