I'm in love with this bag right now!
Question of the Week:
What's your beauty resolution for 2015? I don't know that I have a resolution. Maybe avoiding so much dark contouring? So much of what is on pinterest right now looks like clowns to me. I'm sure I'm in the minority, but I bet people will come around. What is your beauty resolution?
Nouveau Cheap
- Will micellar waters be The Next Big Thing to hit US drugstores? Well
one (very) affordable option is now here
, in case you haven't heard!
Prime Beauty
- Prime Beauty wants to help all the fine-haired girls like herself gets some volume. See what
Kerastase products
she's using to get BIG Texas hair!
Phyrra
- Thinking about the
Melt Cosmetics Dark Matter & Love Sick Eyeshadow Stacks
? Find out if they're amazing or a fail!
w
e heart this
- do you want to
win a year of softer skin
? The answer really is, why wouldn't you?!
Beautygeeks
- Speaking of beauty resolutions, here's
what Canada's top magazine beauty editors want to do better in 2015,
too!
Beauty Junkies Unite
- Amber tried out the new
Nails Inc. x Victoria Beckham nail polish shades
, and found a real winner when one of the shades didn't chip until after 5 days. See which shade it was!
EauMG
- shares her
favorite makeup and beauty finds of 2014
.
Gouldylox Reviews
- Kick off the New Year in the sweetest way possible with this
new palette
from Too Faced!
Love for Lacquer
- Makeup Geek has done it again! Her new
Foiled Shadows
are out of this WORLD!
My Beauty Bunny
- Get glowing in no time! We've got a super simple, golden bronze eyeshadow tutorial using the fab
Zuzu Luxe Peep Show Palette
!
My Newest Addiction
- Looking for new makeup brushes? How about some pink ones? These
bdellium tools Pink Bambu brushes
are amazingly soft and eco-friendly!
(Wondering what the Lipstick League is? Find out here.)
Guest Post of the Week, as chosen by Nouveau Cheap
- If you're a nail person and you love to torture yourself by looking at new nail polishes in foreign lands (in this case, the UK), then you must follow Lou over at
Painted Nails & Baking Scales
. Lou regularly posts pics of new products she spots in UK stores, as well as photos of her own lovely manicures, so the eye candy is endless!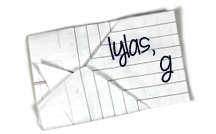 Find Kelly on
Google+
,
Twitter
or
Facebook
. Official
disclosure/disclaimer
statement can be found here.
Subscribe
and never miss a thing!
Copyright 2009-2015, Gouldylox. All Rights Reserved.