Purchased by me. Contains affiliate links.
I've been searching high and low for the perfect product to give me that
Cameron Diaz shiny lid look
. I can't be the only one who has noticed her look. It's almost always the same--shiny lid, long lashes (unless it's that golden bronze all over shadow look--she does that a lot too).
The shiny lid is so pretty, so simple and so perfect. Sure, it could be a shadow and the accent in the corner is most likely indeed a shadow. But watch for it. The texture of the almost-nude sheen isn't a powder. It's not a white, but rather a nude shimmer. It's almost a clear gloss with a touch of iridescence. I've asked makeup artists, cosmetic counter associates and the answer I most commonly get is,
"It must be something unusual for camera only."
Completely refusing to believe that bunch of bullcorn, I mentioned it at Thanksgiving. I've looked at cream shadows, sheer, light pigments, gloss sticks and highlighters. You name it, I've tried it and couldn't replicate the exact look. During our turkey day meal, my sister AbbyDazzle said, "What about that Chanel primer you were into a few years ago? I still use that and it looks just like that."
She's totally right. That must be what it is. Except it wasn't technically a primer.
Ombre D'Eau Iridescent Fluid Eye Shadow
was meant to be an eye shadow. I say "was" because it's no longer available. Just as I discover what I was looking for was under my nose the entire time, it's gone.
So back to the drawing board I went, and that's when I had the most basic of revelations. If you use a good primer like
Too Faced's Glitter Glue
, everyone's first must-have highlighter does the job perfectly. If you are like me, your first highlighter was probably
Benefit's High Beam
. It's so obvious, I can't believe I didn't think of it first.
Add a brown eyeliner (or skip it!) and a lush lash and let your
inner Cameron
loose!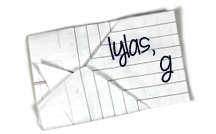 Find Kelly on
Google+
,
Twitter
or
Facebook
. Official
disclosure/disclaimer
statement can be found here.
Subscribe
and never miss a thing!
Copyright 2009-2014, Gouldylox. All Rights Reserved.