This morning, I had my first mammogram. I had a breast cancer scare about three years ago. I found a lump during a monthly self-exam. I called my doctor immediately and had a breast sonogram. I was fine. It was a swollen lymph node caused from wearing a tight underwire bra. But that was three years ago and I'm due for my first mammogram.



I can make up a million reasons why I turned 40 without getting a mammogram. I was busy. I just had the ultrasound (on one side), no one in my family has been affected, my breasts are really tender and gigantic (a G cup) and
I was afraid of the squish
. Plus there are always so many other things to do. And honestly, I've done a lot of things that the dark corners of the internet say will give me cancer. I drank a lot of Diet Mt. Dew. I have been eating a lot of artificial sweeteners my entire life. I wear deodorant. I use a cell phone. There are a million rumors on the internet and all of them can kill you. It's overwhelming and easier to forget about getting screened.
Six months shy of turning forty-two, I finally made the call to get screened. A mammogram is essentially an x-ray of the breast tissue. Science says that regular screenings for women over 40 help diagnose breast cancer before it spreads and therefore helps save lives. There is a risk of a false positive in women on the younger side, but a false positive is better than not knowing cancer is growing and spreading, right? If you're between 40-45, definitely talk to your doctor. It's time to start getting screened.
I showed up to my appointment, filled out some paperwork and got into a pink gown. I was quickly escorted into a room where the mammography machine was kept and asked to remove one side of the gown. By the way, can we
PLEASE stop pinking everything
?!? It's enough already. At this point, all of the pink stuff and cute boobie language is making me angry at the companies trying to capitalize off of an illness that affects 232,570 women each year. I know donating .05 cents from each lipgloss/energy drink/whatever adds up at the end of the day,
but if these companies cared about supporting breast cancer awareness, prevention and finding a cure, they would donate more than the discount you can get from an online coupon on any given day.
(It's not that scary of a machine.)
A lovely women took one breast and placed it on a the x-ray table with a gloved hand. She then brought the plate up to my height. She flattened out the tissue as much as possible and then told me not to move or breathe. She then lowered the top plate onto the breast and took an image. It hurt. It was over in five seconds. We repeated a sideways position with the same breast. Again, ouch. We moved on to the next side and continued the process. It was over in five minutes. I got dressed and left for work. No big deal. That was it. It wasn't a good time, but it certainly was not worth postponing.
Ready to get yourself screened? Your OBGYN can refer you and your insurance should cover most or all of the cost. Some state and local health programs and employers provide mammograms free or at low cost. For example, the Centers for Disease Control and Prevention coordinates the National Breast and Cervical Cancer Early Detection Program.
This program provides screening services, including clinical breast exams and mammograms, to low-income, uninsured women throughout the United States and in several U.S. territories.
Contact information for local programs is available on the
CDC website
or by calling 1–800–CDC–INFO (1–800–232–4636).
Information about free or low-cost mammography screening programs is also available from NCI's Cancer Information Service at 1–800–4–CANCER (1–800–422–6237) and from local hospitals, health departments, women's centers, or other community groups. You have no excuse to wait. If I can do it, so you can you.
I'll find out my results in five to seven business days if there is anything to be concerned about. My breasts are still a bit tender. I think the biggest reason I waited longer than I should have is because I was afraid of the pain of the machine. There has to be an easier way to get a good image of the breast. But until then, don't let the fear of the squish stop you.
It's not that big of a deal. We're women. We can do anything. Don't let a little machine, or anything else, scare years off of your life.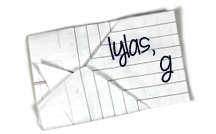 Find Kelly on
Google+
,
Twitter
or
Facebook
. Official
disclosure/disclaimer
statement can be found here.
Subscribe
and never miss a thing!
Copyright 2009-2014, Gouldylox Reviews. All Rights Reserved.