Purchased with my own nickels.

When I was in college, I loved perfumes. I loved them so much that I saved all of my pennies and bought as many as I could. I loved Jessica McClintock, Calyx, Tribu, Acqua Di Gio, Sunflowers, Tommy Girl, CKOne, Happy, Tresor and that green Victoria's Secret Pear-something-or-other.


Whiskey face. (Sort of)
And then one day, I couldn't smell a difference between them any longer. I wish I could blame it on something interesting like that time a drunk driver totaled my Toyota when I was 20. It would make for a great story, but I don't think I had olfactory damage. Lots of back damage (still do! Thanks, you drunk loser!), but no damage to my schnoz.
I don't talk about perfume much these days. Complex scents are lost on me. Before, I could understand and pick up on the notes in a fragrance. Now, it either smells lovely to me or gives me little kid whiskey face, which still happens when I drink whiskey (I don't really drink anything, because it all tastes gross to me). I love the idea of a light scent and really love scents made for your hair (if you have any suggestions, tell me!).
These days, I have two favorite scents. One is expensive and the other is really similar to the semi-super expensive one.
Kai has been one of my favorites
since I got a sample of it in a Nordstrom order years and years ago. It includes the delicate, sweet scent of flowers like plumeria, pikake, gardenia and jasmine. To my nose, Marc Jacobs smells overly strong and cloying, despite sharing some of the same flowers as Kai. If you want lighter and less attacks-your-senses-in-an-elevator,
pick up Kai for $76
.
My current signature scent is
Leila Lou by Rosie Jane
. This perfume is made up of pear, jasmine and freshly cut grass. It's spring in a bottle, if you will. I wear this every day and would be hard pressed to change my scent. People actually stop me frequently and ask me what it is. For some reason, since it's not the easiest scent to find in person, I never remember it's whole name--which selfishly works out for me. I'm the only one in my
circles wearing this scent
. Grab it for yourself (just don't wear it around me) for
$49.00
.
What is your favorite? Do you change scents with the seasons? What other fragrances would I like? Looking for other ideas? Check out the tiles below!
An InLinkz Link-up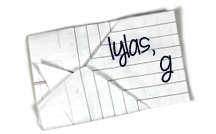 Find Kelly on
Google+
,
Twitter
or
Facebook
. Official
disclosure/disclaimer
statement can be found here.
Subscribe
and never miss a thing!
Copyright 2009-2014, Gouldylox Reviews. All Rights Reserved.