Sent for review. Contains affiliate links.

Who doesn't want a timeless face? This girl does! If your current foundation gives great color coverage but not great texture coverage, you may need to try a specialty primer. So many primers help makeup adhere to the skin better, but they don't make the skin look flawless from a texture perspective.


Tarte's new primer,
Timeless Smoothing Primer
helps to fix that gap. This silicone based primer fills in small imperfections while adding vitamin C for brightening, vitamin E for softening and loads of blurring agents which kick the butts of fine lines and over-sized pores.
To use this, just apply a pea sized amount to your finger. Then spread it out, starting from the center of your face and smooth out, towards the hairline. That's it. Then you apply your foundation like normal. I've been using this with a liquid foundation only. I'm not sure it's well suited for a loose powder foundation (but I don't really wear that, so I'm not sure). One other caveat -- don't use it in conjunction with a silicone based face perfector. It's too much silicone and things blend and slide strangely. Just use it with your regular liquid foundation and you'll be fine. Smooth and oh so fine.
If you have enlarged pores, fine lines or light denting in your skin, this will help give your skin a more even textured appearance. Try it
yourself for $39
.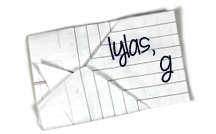 Find Kelly on
Google+
,
Twitter
or
Facebook
. Official
disclosure/disclaimer
statement can be found here.
Subscribe
and never miss a thing!
Copyright 2009-2014, Gouldylox Reviews. All Rights Reserved.