Sent for review. Affiliate links.

I'm not good at nails, but when I manage to get them in shape, I like to get them done and not touch them for days. Between typing all day, taking photos, working on DIY projects and boxing, I'm really a tough contender when it comes to keeping my nails nice.


Gel nails always look nice, but are so expensive to have done in a nice salon, I never spend the money. Enter
NaiLuv Home Professional Gel Nail System
. This system contains one LED lamp that runs on 4 AA batteries, cuticle pusher and small file, one polish color (in a really pretty red), base/top coat, bonder, cleaner and polish remover.
The system works similarly to salon products. You start by prepping the nails--filing, pushing back cuticles and trimming any rough bits away. Next, you apply a bonder to the nails, which removes all traces of oils so the polish can adhere properly.
Then you paint nails with a base coat of clear polish and cure under the LED lamp for about 30 seconds. Next, paint your nails with the
NaiLuv Gel Polish
, curing each coat under the lamp for about 45 seconds. Finally, finish with a top coat, cured under the lamp for another 30 seconds. Use the cleanser (ISO alcohol) to remove any sticky traces. Your nails are finished!
(Wearing the shade Cola.)
I'm not great at getting really close to the cuticle, with gel polishes, so I tend to leave a slightly larger gap than I would prefer. This happens because I don't want the polish to lift by curing it too close to the cuticle and because gel polish always seems to shrink. If you find this polish shrinking from the tip of your nails, be sure to add a little bit of polish to the tips right before curing.
My polish lasted for about six days and then only showed signs of wear because I tend to pick. Nothing can save me from myself when it comes to picking at my nails. It's by far my biggest beauty offense, but this system did a really nice job of holding up, considering how rough I am.
Pick it up for yourself for $125
.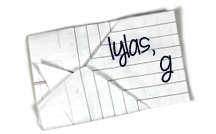 Find Kelly on
Google+
,
Twitter
or
Facebook
. Official
disclosure/disclaimer
statement can be found here.
Subscribe
and never miss a thing!
Copyright 2009-2014, Gouldylox Reviews. All Rights Reserved.